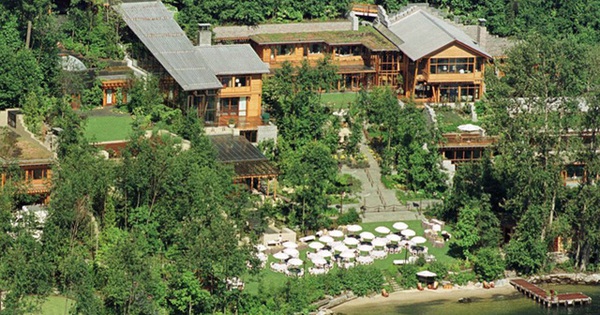 Most of the billionaires around the world are praised as fairly simple people in everyday life, especially for their style of dress, but typically Bill Gates or Mark Zuckerberg, so what in the "how to stay" style?
1. Bill Gates
Bill Gates owns the house in Medina, Washington
Bill Gates spends most of his time in his 66,000-square-foot mansion in Medina, Washington, where he is also nicknamed "Xanadu 2.0", named after a character from the movie "Citizen Kane". This mansion overlooks Lake Washington.
Bill Gates mansion overlooks Lake Washington
It took Bill Gates 7 years and $ 63.2 million to build these many high-tech homes. He bought this land for $ 2 million in 1988, it was worth about $ 170 million as of 2016, according to public records.
2. Jeff Bezos
Jeff Bezos, a leaseholder in Medina, Washington
In the process of building his e-commerce empire, Jeff Bezos bought himself a large amount of real estate in 2015, ranking 26th on the list of the largest landowners in the US. About Jeff, in his real estate, is a 165,000-acre farm in West Texas, a seaside house in Washington State, three connected flats in Manhattan's Century Tower, and a 12,000-square-foot estate in Beverly Hills, where Tom Cruise's families are a neighbor, according to Forbes.
Jeff's residence in Medina, Washington, is close to Amazon headquarters with 5.35 acres and approximately 29,000 square feet of living space. In addition to the main house, Jeff has a small guard house and a 4,500 square foot boathouse in Lake Washington.
3. Warren Buffett
The stock king Omaha owns a mansion in Nebraska.
Although the wisest investor in the world has invested a lot in real estate, Buffett has always been known for living a humble and unobtrusive life.
Warren's house is located in a small corner in Omaha, Nebraska, which he bought in 1958 for $ 31,500. Buffett has lived there ever since. The house has undergone several expansions to become the comfortable and comfortable 6500 square foot home it is today.
4. Mark Zuckerberg
The Facebook mogul owns a home in Palo Alto, California.
The youngest wealthy businessman spends most of his fortune in schools, healthcare, and other charities. Zuckerburg's real estate portfolio includes a house in Palo Alto and a small 9.9 million apartments near Dolores Park in San Francisco.
Zuckerberg bought his first 5,000 square foot Craftsman style home in Palo Alto in 2011 for $ 7 million. Mark bought all four houses around his house for $ 43.8 million in the following years to keep his family a secret. However, the plan was canceled and the rebuilding of these four houses was still delayed.
5.Larry Ellison
Larry Ellison owns a villa in Woodside, California.
Oracle chairman Larry Ellison has a rich portfolio of real estate. It acquired a large part of the entire residential area in Malibu and around Lake Tahoe. Owner of the $ 70 million Beechwood Estate in Newport, Rhode Island; A garden villa in Kyoto, Japan; and 98% of the land is located in Lanai, Hawaii's sixth largest island, which it bought for $ 500 million in 2012.
Her home in Woodside, California, with an estimated value of $ 110 million, was modeled after 16th-century Japanese architecture with a 2.3-acre artificial lake.
6.Michael Bloomberg
Michael Bloomberg has a house in Manhattan, New York
Former New York Mayor Michael Bloomberg owns more than a dozen properties around the world. He spends most of his time in the Upper Estate Side mansion and also owns properties in Hampton, New York, as well as London, Bermuda, Colorado and Florida.
The former mayor of New York owns a mansion located at 17 East, 79th St.
Bloomberg's 17 East, 79th Street, 5-story townhouse with limestone exterior. During his three terms as mayor, Bloomberg lived in this house instead of the Gracie Mansion.
Since 1989, he has gradually bought apartments on 19 East, 79th Street, a townhouse next to his current residence. Out of six white buildings built in the Greek style in the 1880s on this block, Bloomberg currently has five buildings, according to The New York Observer.
Source link