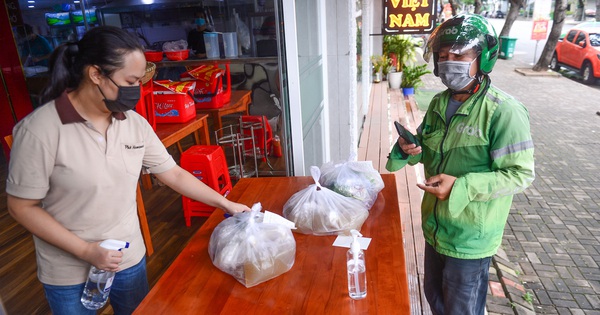 The shipper is to deliver to customers on the morning of September 15, Bui Bang Doan Street, 7th.
The carrier of technology vehicle applications Grab, Gojek, Baemin … animatedly shared with colleagues about the link to update driver information, such as residence address, vaccinations, promptly sent to the company before 17:00 on September 15. cross-region run record to be ready for the next day.
Inter-district employees excited by the new regulation have the opportunity to receive more orders, increase revenue, increase revenue.However, many drivers are wondering Aside from any updates on how it works, the paperwork and tests required to meet the closing request as of tomorrow have not arrived.
Grab's shipper, Mr. Nguyen Tai Hung, sent a question to a group of tech drivers: "Tomorrow we will be managing the inter-districts, why is there no information yet? If I receive an application for inter-district travel tomorrow, will everyone be penalized?".
exchange with Online Youth, Apps like Grab, Be or Baemin said they are still awaiting guidance and may not be able to launch cross-regional activities on September 16. Currently, the list of shippers has been updated and submitted to the Ho Chi Minh City Department of Industry and Commerce.
Delivery companies such as Viettel Post, Economical Delivery and Best Express said orders at warehouses are tight, cost a lot of money and risk compensation for damage if damaged orders appear. Therefore, businesses are anxiously awaiting the immediate update of enforcement instructions to apply to post offices and shippers.
Mr. Nguyen Viet Linh, communications director of Be Group, said that the interregional operation arrangement is in line with the wishes of many users in the context of restricting people's travel, which has led to demand for shopping services, households, food delivery and inter-regions. The district's basic goods increased.
This company has been approved by the Ministry of Industry and Commerce to increase the number of shippers in Ho Chi Minh City to 1,000 and is licensed to operate on a daily basis. However, according to Mr. Linh, the number of shippers operating compared to current demand is still not fully balanced. The number of orders will definitely increase, especially when inter-district delivery is allowed from tomorrow.
According to Mr. Linh, 1,000 drivers are currently allowed to work, but the Be can accommodate around 3,000 shippers.
Delivery apps allow users to order basic delivery services, go to the home market in the districts, Thu Duc City in Ho Chi Minh City from 6:00 am to 9:00 pm daily. WOMENMany customer p reportsDelivery costs of applications have increased considerably and it has become difficult to order carriers.
Earlier, Le Hoa Binh, Vice Chairman of Ho Chi Minh City People's Committee, said that shippers in the city can operate inter-regional from September 16, but they must ensure safe conditions for epidemic prevention and control. TP continues to support test fees for shippers.
Ho Chi Minh City: Shippers will be able to operate inter-region from September 16
Source link