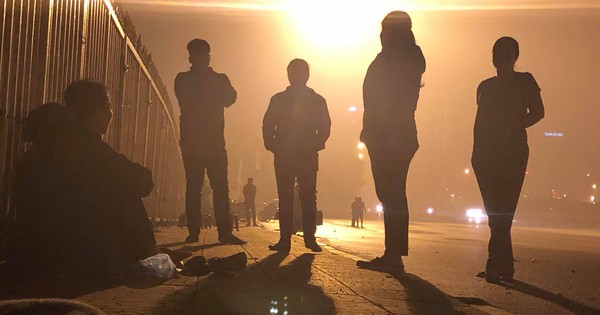 Villagers prevented threatening, fans lined up to get tickets
According to our reporter at 10:30 pm on November 10, several dozen people gathered in front of the My Dinh stadium with the same goal of "set brick", buying tickets to watch the match in Vietnam and Malaysia. AFF Cup 2018. Most students. There are men, there are girls, common points are a violent love for players. They are willing to stay on the street, cold, and awake in the street to be able to buy tickets.
The bandits chasing fans.
However, this is just the difficulties associated with them. Fans arrive earlier than 10 hours, choosing the best place to buy tickets. However, as reported by journalists, at the My Dinh Stadium. In the morning at 11am (11/11), a group of people appeared to chase their fans from the position they had previously lined up.
Their students are threatening themselves to "win space Öğ. Of course, they did not dare to fight with people from other parts of the country, the bandits in the land. They all quietly left their positions at the disposal of the bad guys.
In places where only hooligans are present, fans face hundreds of tickets in the stadium. A man said over the phone aloud: "This man is more than enough to bring more money here, to bring more money." After a while, a group of people, cars and motorcycles, the fans filled the positions previously stopped.
The ticket appears in front of Dinh Stadium.
It is known that the number of tickets sold to fans in the next two matches of the Vietnam team is very limited. "Ticket war" is getting hotter than ever. Functional forces are known to send silent followers to bad followers, but this is still not enough to fully resolve the "fare ticket".
Today at 8 am, the ticket counters at My Dinh Stadium will be opened. How many tickets will be handed to the real fans who even perform their time, energies and even their own security? This is a difficult question to answer.