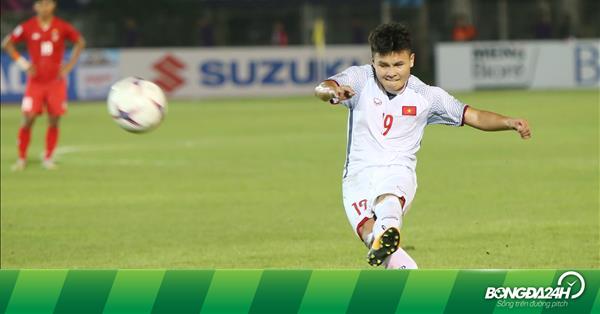 The official name of the Vietnam Gold Ball 2018 list comes from the Hanoi club.

Who will call the yellow ball?

According to the list of 20 candidates, the V-League won the six championship in 2018. Hoang Vu Samson, Nguyen Van Quyet, Tran Dinh Trong, Do Duy Manh, Doan Van Hau and Nguyen Quang Hai – this year's number one candidate for the Golden Ball.
Nguyen Cong Phuong, Vu Van Thanh, Nguyen Van Toan and Luong Xuan Truong. Becamex Binh Duong, SLNA and FLC Thanh Hoa have 2 teams, Hai Phong, Quang Ninh, Quang Nam and Da Nang have a name.
The current Vietnamese yellow ball is Đinh Thanh Trung but it is difficult for the player to repeat the match because he is not even on the Vietnam AFC Cup 2018 list after a season. performance declines.
Quang Hai is the # 1 candidate for the Golden Ball 2018 in Vietnam.
The most prominent on the list of candidates is Nguyen Quang Hai. The young players of Hanoi scored five goals in Asia's U23 five times earlier this year, despite being out of shape in the ASIAD and the AFF Cup again and again.
According to the plan, Gala, Vietnam will award the Golden Ball 2018, will take place in Ho Chi Minh City. December 22, Ho Chi Minh City – AFF Cup closed for a week. I hope Park Hang Seo can win the regional championship before giving the QBV title.
List of 20 candidates QBV 2018
Ha Duc Chinh (Da Nang)
Dinh Thanh Trung (Quang Nam)
Phan Van Duc
Nghiem Xuan Tu (Quang Ninh)
Dang Van Lam (Hai Phong)
Que Ngoc Hai
Phan Van Duc
(SLN A)
Bui Tien Dung (goalkeeper)
Nguyen Trong Hoang
(Thanh Hoa)
funded
Nguyen Anh Duc
Nguyen Tien Linh
(Binh Duong)
Nguyen Cong Phuong
Vu Van Thanh
Nguyen Van Toan
Luong Xuan Truong
(HAGL)
Nguyen Quang Hai
Doan Van Hau
Duy Manh
Hoang Vu Samson
Tran Dinh Trong
Nguyen Van Quyet
(Hanoi)
Nguyet Anh – TTVN