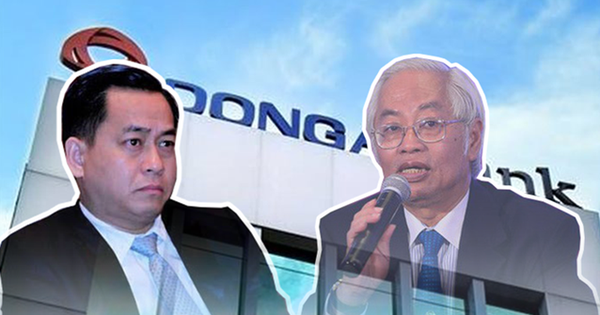 On the morning of 27 November, TAND HCM City took Phan Van Anh Vu, Dong Phuong Binh (Dong A Bank General Manager) and 22 other defendants to hear about the incident. For DongA Bank, more than 3,600 billion.
By the end of 2015, DAB will accrue more than 31,000 billion VND
After receiving the file from the Ho Chi Minh City Police Department in the indictment, on 9/12/2016, the Ministry of Police Investigations decided to open a criminal case at the Ministry of Public Security, to investigate the accused initiated prosecution.
Mr. Tran Phuong Binh, Vice Chairman and Vice Chairman of the Board of Directors and Vice Chairman of the Board of Directors, determined the main purpose of organizing and managing treasury and investment activities in DAB. DAB abused the trust that pushed more than $ 3,405 billion in assets to damage DAB, including 1,160 billion in the purchase of more than 74,000 shares; VND437 billion and 650 foreign trade relations; Forex trading and gold trading account more than 24 million and more than 15,000 gold unauthorized …
The above-mentioned serious legal violations are the main reasons that have resulted in DAB's status on 31/12/2015: 31.076 billion dong, 25.451 billion dong negative equity and total net assets of only 47.011 billion.
How did Phuong Binh get the VND from DAB to 2.057 billion?
According to the indictment, first of all, DAB had over 2,057 billion dongs to abuse the powers of Tran Hung Binh, Nguyen Thi Kim Xuyen, Phan Van Anh Vu (Vu Aluminum) and Pham Van Phuoc.
From 2007 to 2014, Mr. Binh Nguyen said that Thi Kim directed Xuyen, and the defendant had committed 9 crimes in the form of buying the empty payment Tran Phuong Binh and his relatives in the DAB division. In order to compensate for the scarcity, Mr. Xuyen asked Ms. Xuyen and the defendants to perform illegal activities: to issue gold funds, to make short credit records to complete the share purchase.
In addition, as of 2013, Mr. Binh, including Vu Nhôm's Vu Aluminum, confiscated about 490 billion DAB to purchase DAB from the capital increase and more than 13 million to 60 million shares of aluminum.
Insulting Tran Phuong Binh.
In 2007, it acquired 374.5 billion by purchasing 5 million DAB shares.
According to the indictment, at the end of 2007, Nguyen Duc Vinh managed to spend 23,252 gold (without certification) funds and coordinated it with the DAB Sales Department and managed to sell gold for the negative balance of 374.5 billion VND. over. So far, Mr Binh still has this stake.
In the Presidency of Investigation, Vinh accepted the direction of Binh, Binh and his relatives in order to give up the unpaid invoices on behalf of Binh, to sell the DAB fund to sell gold, to purchase the DAB shares, and to complete a share. . At the same time Mr. Binh was not shared with Binh's abuse, but also determined that Vinh was not used.
In 2008, he acquired $ 6 billion of DAB from Loc Viet and made $ 234 billion.
In 2008, Binh purchased 5.75 million DAB shares of the Loc Viet Fund for a price of approximately $ 328 billion. To earn money to buy shares, Nguyen Hong Anh, 30 billion dong Binh short Binh Thinh Company Limited (Ninh Richland Hill Project, used 121 billion dong to sell high-end Block D) and Sao Viet Star Food Company Limited (Sao Viet Company) Borrowed 197 billion VND, paid a total of 328 billion VND to the Loc Viet Fund. shares, VND496 million for general use, using VW20 billion to open a gold trading account for Phu Nhuan Jewelry Joint Stock Company (PNJ) and Tan Van Hung Limited Company.
Mr. Binh then directed the Treasury Department and the DAB to issue VND 204 billion VND vouchers for the payment of USD 8 billion VND for the $ 196 billion VND VND and Ninh Thinh Company and the Company's loans. Vietnamese star.
From 5 December 2009 to 1 December 2009, Do Thanh Trung established 7 vouchers of 67 billion VND; Tr .n Th kupon Hùng made 13 short-term coupons worth 42 billion VND. One of the above actions, Binh confiscated DAB's 234 billion dong.
In 2009, more than 7 million shares bought more than 74 billion funds by purchasing DAB
Ongoing, 2 days 10 and 11/8/2009, Mr. Binh, directed 6 short documents; The amount of money collected from the DAB Department is transferred to the head office to explain that the amount of money is 74 billion. Binh, Binh and other individuals and legal entities under the name of 7.4 million DAB used this money to buy shares.
Thus, Mr. Binh abused his 74 billion dongs of entitlements to purchase DAB's 7.4 million shares of Binh Dinh in 2009.
In 2010, more than 31 million shares bought more than 274 billion in acquisition of DAB
The purpose of the loan is to support working capital to pay for the goods. On the same day, DAB granted 150 billion dong credits to the account no. 00152832000000, which Ninh Thinh Company opened in DAB; Ninh Thinh, opened in the DAB Department of VND152.8 billion (VND150 billion loan and VND2.8 billion paid by Nguyen Ky Anh) account has been transferred to 0102650364 Cao Ngoc Lien (the father of Binh) account.
Until 2010, Binh managed the Ninh Thinh Company's H5514 / 1 Credit Agreement dated 20/12/2010 to pay 150 billion dong. Binh then directed a deficit of 151 billion dong to pay 150 billion dong principal and 1 billion dong interest loans.
In addition, in 2010, Binh continued to use the DAB's 16 million shares and continued to use 122.7 billion DAB. Mr. Binh, who is known to pay for the shares in this capital increase, asked that Pham Van Tan borrow 100 billion dong of DAB and personal loans. Nguyen Huy Truong Hong (wife of the accused Nguyen Hong Anh) 83.7 billion co.
Later, Binh collected 122.7 billion VND (80.7 billion VND 42 billion) to repay Nguyen Huy Truong Hong's loan and Pham Van Tan. At the end of each day, Mr. Vinh instructed Doshh Hung to transfer the money collected from the DAB Office to the general directorate of the Treasury to meet the negative amount of money.
In 2011, 23 billion more than 3.4 million DAB shares were acquired
In 2011, the small shareholders directed the VND23 billion 5 short-term receipts for Binh to buy 3.4 million shares of Binh to buy shares of the DAB. Nguyen Thi My Linh. He made 4 coupons, and Thanh Hung made a coupon on 23/31/2011 with 23 billion bail bonds; 31/05/2011; 29/06/2011; 18/07/2011.
At the end of each day, Vinh Do instructed the Fourth Chamber to recognize the money collected from the DAB Department by the General Directorate of the Ministry of Treasury and lead to the treasury of this amount.
June 29-12, 2012, Nguyen Thi My Linh transferred 3.4 million DAB shares to Binh.
In 2012, it will receive a share of 20 million DAB and will earn 170 billion VND.
On April 23, 2012, Mr. Binh continued to direct the writing of 50 billion VNDs under the name of Do Thanh Hung to transfer it to the Pham Van Tan card account opened in the DAB Transaction Center. On the same day, Pham Van Tan handed over $ 50 billion to buy 5 million shares of Pham Van Tan for Binh. On April 24, Mr. Binh handed over 5 million DAB shares to the Bac Nam 79 Company for 50 million VND for personal use.
Stop, in the charter capital increase in 2012, Binh Steering Nguyen Thi Kim credits to buy Xuyen DAB shares. Later, Nguyen Thi Kim Xuyen thanked Le Hung Cuong (son of Tuoi Tre) and Tu Thi My Lin (Ham Nghi Trading Office District 1) and Tu Thi My Linh. DAB Dinh Tien Hoang Branch's acquisition of 14.5 million DAB shares.
Approximately 11 billion through purchase in 2014
On July 17, 2014, Le Tuan (Investment Advisory Inc.) sold more than 1.4 million DAB shares to Binh's approximately 11 billion dong. Binh, thanks on behalf of this shareholder.
On the same day, Mr. Binh filed the filing of 11 billion Truong Quoc Khanh to pay the shares. Currently, Truong Quoc Khanh is still the owner of the above DAB shares.
Vu Nham's handshake received about $ 490 billion for Vu Aluminum to purchase 60 million shares and receive more than $ 13 million.
It is known that the losses in DAB, lack of a large amount of money and the gold in its treasury have a policy that will increase the capital of the DAB regulation from 5 trillion to 6,000 billion to attract the investment capital of the BinB. DAB has the potential to finance and invest in DAB to have a good pre-treatment in DAB and to improve DAB's brand and position.
Former acquaintances Binh and Vu Nham Vu Nhom purchased 60 million shares to 600 billion dong by increasing DAB's capital to 6,000 billion by 2014, aiming to become the shareholder of DAB in VNNM. Great, dominant in DAB.
Funds for DAB shares include: Vu Nhôm Mortgage 220 The land in Da Nang borrowed 400 billion VND from DAB. For the remaining 200 billion dong, DAB staff donated funds to Vu Vu and Vu Nhom to invest 200 billion dong in the DAB to buy 200 billion dong of Vu to buy the DAB shares.
Mr. Binh also exploited DAB's 284 billion VND to save US $ 13.4 million for Vu Aluminum and to dispose of 11 billion dong through a $ 500,000 purchase to others.
During the investigation, the Investigation Agency collected five handwritten articles by Do Thanh Hung, who damaged the DAB as head of the DAB Headquarters. Do Thanh Hung, 12/10/2015 through 11/3/2015 to buy $ 13.9 million for a total of 295 billion pounds gave 12 billion. Later, at the request of Vu Aluminum, Binh transferred USD 13.4 million for Vu.
In addition, Binh and Nguyen Thi Kim Xuyen and Pham Van Phuoc abused the powers of the 400 billion DAB.
Source link