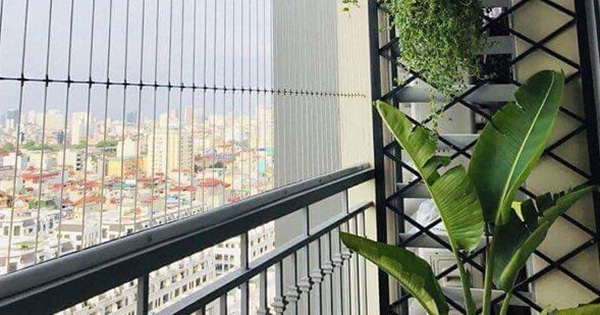 The incident of a 3-year-old girl in the Thanh Xuan Trung ward crawling over the railings and falling from the 12A floor of the apartment, fortunately a rescued young man attracts great attention on the social network.
If you live in a high-rise building, the risk of accidents in the balcony area is very high, especially the walls of your balcony are low and barrier-free. Children and the elderly are the most affected by accidents while working in the balcony area.
The solution to prevent the unusual event is to install a safety net for the balcony.
Safety nets limit risks when there are children and elderly people in your home
The structure of the balcony security net is usually divided into two main parts, including aluminum profiles and stainless steel cables.
The shaped aluminum bar is responsible for firmly fixing the safety net to provide the most. Aluminum rods are usually coated with a powder coating to protect them from rain, sun, dust, oxidation and corrosion.
The structure of the mesh consists of 2 aluminum rods pre-assembled with rubberized steel bolts that help shape the cable securely and firmly.
There are 2 main types of stainless steel rope of the apartment balcony safety net currently on the market: 2.5mm mesh and 3mm mesh.
Apartment balcony safety net has very high bearing capacity and durability. In addition to protecting children and the elderly, this net helps you prevent theft and prevents clothes from flying when exposed to the balcony.
In addition, if you are a nature lover, ornamental plants and safety nets will be a "mini shelf" for you to enjoy decorating cute items or beautiful little flower pots, both aesthetically pleasing and environmentally friendly.
Photo: Internet