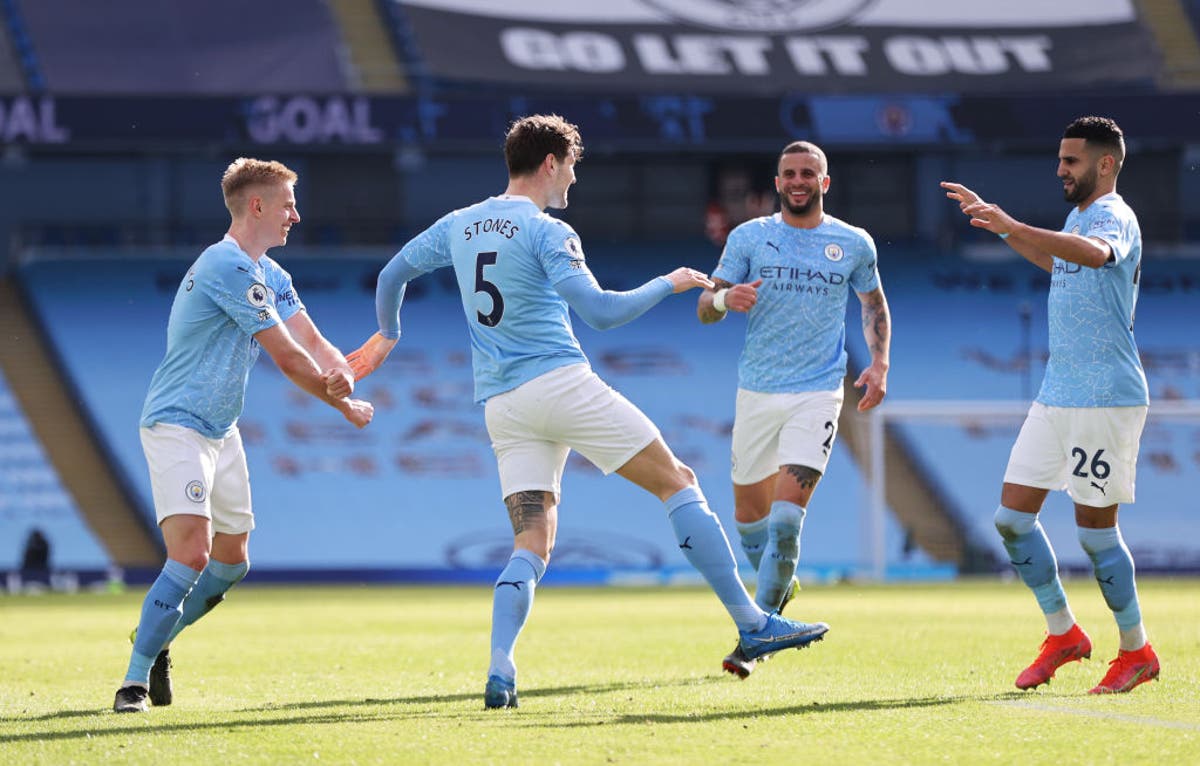 For a moment this seemed like the end of Manchester City's brutal streak.
A twentieth consecutive win in all competitions was slowly slipping away at Etihad. Pep Guardiola and its players may have had to settle for just an 11-point lead at the top of the Premier League table. Still, they continue.
John Stones 'winning goal in the middle of the second half preserved City's notable, record-breaking streak, and after West Ham, Michail Antonio canceled Ruben Dias' breakthrough, he denied a point that his games arguably deserved.
David Moyes has been waiting for his first away win against the 'top six' opponent in more than a decade – a study currently covering 41 matches – but he will take courage from the performance and comfort from the fact that some opponents are unstoppable.
City continues to find ways to win with center-back matches this time around. Incredibly, Stones and Dias now scored more goals than they ate when starting side by side this season.
Guardiola's side move is 13 points clear at the top, but the championship race is no longer a competition. The pressing question is exactly how long City can sustain this, European and world records are visible.
Lukasz Fabianski's training field injury forced second-pick goalkeeper Darren Randolph to the starting line, but City struggled to test stand-in in the opening stages. West Ham prevented the Guardiola side from firing a single shot in the first half hour, showing why they should be taken seriously as the top four competitors.
This was partly due to Kevin De Bruyne looking uncoiled at his second start since he returned from injury, but it only takes a moment for an actor to revive his majesty.
A left-footed cross from the right wing after a corner was broken caught West Ham off guard for a moment. Stones had remained in the penalty area, but Stones, who perfectly read the flight of De Bruyne's magnificent delivery and perfectly read De Bruyne's flight past Randolph for his first City goal, remained in the penalty area.
West Ham did not deserve to be left behind. Not only did Moyes's side otherwise keep City quiet, but they also enjoyed their promising possession spells. Antonio's turn and shot that cut and widened the base of the pole was a warning for City, but something they didn't pay attention to.
The first Etihad goal that Guardiola's side acknowledged from open play since October began with a City throw-in at the right-hand touchline and Aguero losing the ball in the middle of his half-court.
City went bankrupt as the reverse left-back Oleksandr Zinchenko got stuck in the middle of the midfield. Vladimir Coufal was released into the wide open space on the right side of West Ham. The perfect Jesse Lingard turned Coufal's cute acronym to the side of the goal line, but so that Antonio can be sure by tapping the goal line.
The city could not have any complaints. West Ham kept his attack at arm's length and was rarely threatening in situations where they could conquer. If Moyes' players could only stay alert at the set stones, they would have escaped without more penalties and at least a point.
Yet in the middle of the second half, while City was looking for one sure chance, Dias' strike partner came to the plate. After another corner broke down, Stones remained on the court once again.
De Bruyne and Zinchenko helped advance the ball on the right from where Riyad Mahrez found Stones in the void inside the penalty area.
West Ham gradually returned to the competition, but lacked the cut they showed in the first half. Their best hopes for an equalizer finally came, Antonio's downward head kick escaped Tomas Soucek, and Issa Diop escaped another headed venture.
Another day, both chances may have been transformed, but there is no denying this City side.
Source link