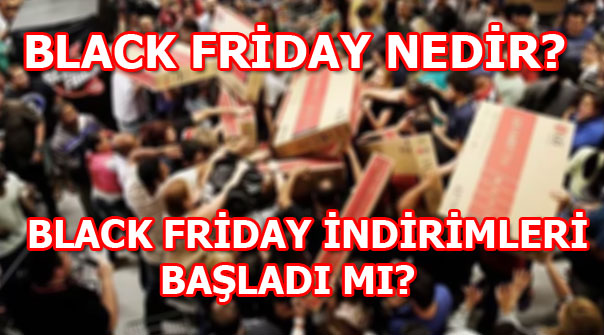 Black Friday craze took hold of the Turkish position. Black Friday, celebrated as the first Friday in America after the day of Thanksgiving, is known as the day when Christmas shopping started since 1932. World under the influence of area shopping spree as it spread all over the world will have begun to show the effects of many brand stores in Turkey and started to discount their Internet sites. During Black Friday, crazy discount days have started in almost all sectors, from Cosmetics to clothing to white goods. The big discounts are expected on Friday, November 23rd. Many websites are already exhausted on many websites
WHAT IS BLACK FRİDAY?
Black Friday is called the first Friday in the United States after Thanksgiving Day. The day is considered the beginning of the Christmas shopping season since 1932. Stores open very early and close late, and sell unexpectedly. Black Friday is not a public holiday. There are also Black Friday days in Canada and the UK, and several companies doing business on the Internet, such as the Amazon, also sell discount.
This shopping day was first mentioned in the newspapers in 1961 as Black Friday. On that day in Philadelphia, this name was given because of the heavy traffic and difficulties caused by shopping. In recent years, this day is positively met for both people and stores. Famous stores such as Walmart open their doors to their customers earlier each year, and the work of the workers is more intense.
In recent years, in stores, Black Friday, the accident rate increased due to overcrowding. For example, cars used for shopping can hit customers or employees and cause injuries. For example, in 2006, the rebellious Wal-Mart customers in Columbus, Ohio, swarmed as soon as the doors were opened, hitting employees' property and causing injuries. In 2008, customers waiting for the opening of the US's Valley Stream, New York City at 5:00 in the morning, opened the doors, broke the door, crushed a 34-year-old employee and killed him. It is observed that customers do not feel guilty about the sad event that this employee has. In 2010, there was a similar incident in the Target store in Buffalo, New York. Some customers attempt to break into long queues and threaten other customers. In 2010, a woman in Madison, Wisconsin, USA was arrested for stealing queues at Toys 'R' Us and threatening to shoot down those who objected. In 2012, two people were shot in the parking lot of Wal-Mart in Tallahassee, Florida, USA because of the issue of parking. Despite the violence on Black Friday, this day is very famous in the United States.