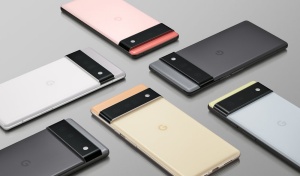 Posted: 3.8.2021 13:56
Google has released some new information about the upcoming Pixel 6 and Pixel 6 Pro phones.
The biggest innovation is the transition to Google's own processor called Tensor. Just as Apple switched to processors developed by itself years ago, so did Google. These processors are still based on the ARM architecture and will continue to be produced by third parties (such as TSMC, which also manufactures Apple processors).
Details about the processors have not yet been disclosed, they just said it includes a lot of tweaks to run artificial intelligence applications – for example, for photo processing. The new model will also have a special security chip called the Titan M2 and will store, among other things, fingerprints read with a reader mounted under the front display.
Most users will notice more of the new design of the phones otherwise. The rear, where the new square is raised, which stretches across the entire width of the enclosure, stands out. It includes its cameras and sensors, including a four-way optical zoom lens (not exactly much, at least compared to Samsung and Huawei). The Pixel 6 Pro will have a 6.7-inch display with a 120 Hz refresh rate, while the cheaper Pixel 6 will have a 6.4-inch display with a 90 Hz frequency.
The new phones will of course feature the upcoming Android 12, which brings more vent to the UI, including new themes and animations.
The phones will go on sale in the fall, prices are not yet known, there are speculations on the internet that prices will start around a thousand euros.
Subscribe to regular weekly or monthly notifications of new posts on our website!
Source link