Vladan Rakocevic declared a fight
Photo: crvenazvezdafk.com
For the first time in 20 years, the "eternal" president of the Montenegrin Football Federation Dejan Savićević There must be competition for the first man position of Montenegrin football. About Vladan Rakočevićis the manager responsible for the international development of the football club Red stars and the development manager at Dečić, who announced his candidacy for the most responsible position in Montenegrin football, Write news.
Rakocevic, 33, from Niksic, was hired as international development manager at Zvezda early last year and has been the creator of numerous projects that were otherwise successfully implemented by clubs in Europe and MLS. league.
As he said now, he is ready to leave his position in the club from Belgrade in order to contribute to the development and development of football in his country.
– The situation is clear as day. Our football needs change at all levels. Thanks to my conversations with professionals, I saw that most Montenegrin football wants change. The installed system must be changed and corrected. Simply put, a completely new vision of football development is needed in Montenegro. – Rakočević said.
Elections in the FSCG are scheduled for June 30, and the candidate must be nominated by at least 11 delegates in Parliament.
– I think my vision and program is superior, many clubs decided to support me. Also, the support of many former members of the Montenegrin national team gave a big wind to my back, and this makes me particularly happy. Rakočević, people understood my intentions and the direction I want our football to go.
He points out that "generational change is necessary and inevitable".
– Things change very quickly in football and we must follow these changes properly. Football is one of the healthiest industries all over the world, and just playing football in our country means survival. We need to change that – Rakočević draws attention.
Montenegro, as Rakocevic said, is a small market that is less and less attractive.
Therefore, we must give a new value at the commercial and marketing level. We need to integrate larger systems and larger markets. Only in this way will we use our potentials and turn football into an industry that can benefit the whole state.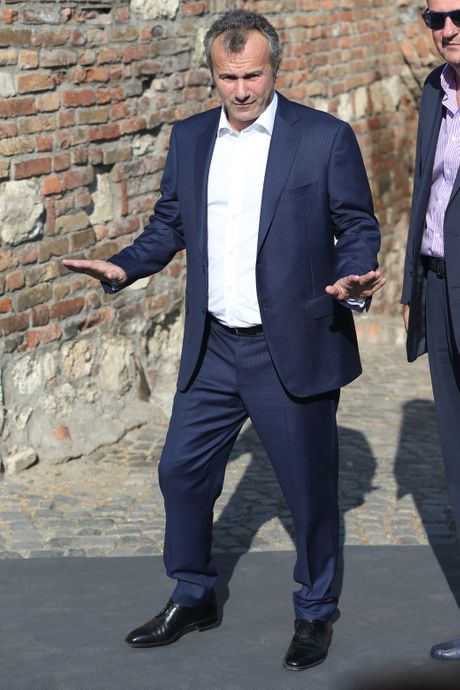 Za sada, ističe, na površinu isplivavaju samo problemi.
– Problemi sa kojima se suočavaju naši klubovi su ogromni. Savez mora da nađe način i da napravi ambijent u kojem će se investicije u fudbal isplatiti. Samo u ovoj takmičarskoj sezoni imali smo praktično 30-40 posto klubova koji nisu bili u stanju da servisiraju potrebe za osnovno funkcionisanje. Imali smo štrajkove igrača, nepostojanje uslova za odigravanje utakmica…
Jasno je da inicijativa mora da krene iz saveza, koji mora da zaštiti klubove i da im pomoć udvostruči ili utrostruči – kaže Rakočević.
On ističe da ima planove kako da to uradi…
– Ukoliko dobijem podršku 30. juna, mogu da obećam da će naš savez krenuti u realizaciju brojnih inovativnih projekata na globalnom tržištu i na taj način povećati budžet, razviti popularnost i pomoći klubovima da mnogo više zarađuju od TV prava i komercijalnih aktivnosti. Razvićemo potpuno novi način komunikacije sa klubovima i uvijek biti na raspolaganju za rješavanje svih problema sa kojima se suočavaju.
Rakočević ističe da bi pod njegovim vođstvom stručni ljudi na svim nivoima imali završnu reč.
– U rad saveza biće uključeni svi ljudi koji mogu da daju doprinos. Naši mladi treneri dobiće priliku za usavršavanje u najboljim trening centrima i školama u Evropi", ističe Rakočević.
On će, kako je naveo, u narednom periodu javnost upoznavati sa konkretnijim ciljevima.
– Vizija je vidjeti ono što danas ne postoji i na tome raditi posvećeno. To je definicija za koju želim da bude zaštitni znak našeg fudbalskog saveza – kaže Rakočević, specijalista marketing menadžmenta, koji je u profesionalnoj karijeri u komercijalnim i marketinškim projektima u fudbalu sarađivao sa evropskim i američkim klubovima.
Rok za prijavu kandidata za predsednika je 7. jun. Dejan Savićević je od 2001. godine na čelu crnogorskog fudbala.
Do sada nije najavljivao novu kandidaturu, ali je u razgovoru za crnogorske medije, krajem prošle godine, govorio o mogućnosti da ima konkurenciju na izborima.
– Ako me klubovi budu htjeli – regije, strukovna udruženja, biću ovde, ako se pojavi neka druga većina sa svojim kandidatom – postupiću kao svi normalni ljudi. Možda sam i nekom dosadio iz nekih razloga, ali se u svakom momentu trudim da pošteno obavljam funkciju, prema svima isto, da radim za prosperitet fudbala – rekao je tada Savićević.
(Telegraf.rs)
Telegraf.rs zadržava sva prava nad sadržajem. Za preuzimanje sadržaja pogledajte uputstva na stranici Uslovi korišćenja.