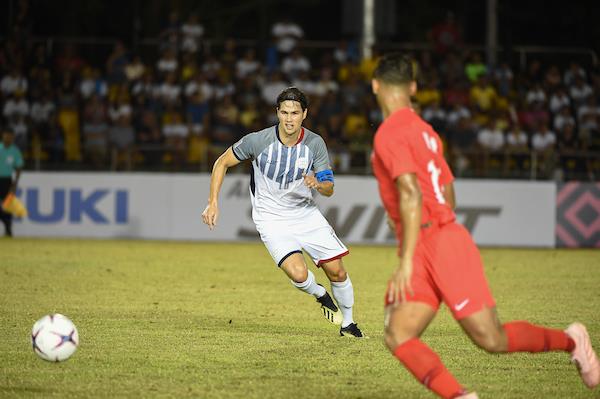 [ad_1]
Philippine Azkals survives the return of Timor Leste, despite three players missing services
MANILA, Philippines – Unmanned Philippine Azkals arrives at the Kuala Lumpur Stadium in Malaysia on Saturday (November 17th) 2014 ASEAN Football Association to get rid of cellars-dweller Timor Leste, 3-2 in the Suzuki Cup in the opening moment of victory.
The Philippines rose to the 2nd place in Group B with 6 points and +3 goals, but Azkals is behind Thailand in Southeast Asia on Wednesday (November 21st) in Pana-Reklam Park and Stadium. Bacolod & # 39;.
Azkals were short on 3 major players due to injury – Neil Etheridge, Manny Ott and Luke Woodland – short.
Etheridge was suffering from a quad difficulty on the right, and when FIFA's international break ended, he preferred to rest before returning to Cardiff City.
Midfielder Manny Ott and midfielder Luke Woodland were injured in the opening match against Singapore. When Woodland was out of the biennial trophy tournament because of a foot injury, Ott got stuck because of a jammed nerve in his foot.
After the first 25 minutes of lethargy, Phil Younghusband scored in the 27th minute and took the help of Daisuke Sato for the 52nd international goal of the Philippines.
Six minutes later, Martin Steuble followed the goal of a team beyond the box to double the lead of the Philippines.
In the 67th minute, Kevin Ingreso managed to triple the lead by throwing a pass to Carlie de Murga at the 67th minute as he steered the ball behind the net.
However, Timor Leste lit the fire after Paul Mulders accepted the punishment in the 73rd minute, after allowing Nataniel De Jesus Reis to stain the Philippines' clean sheet in the tournament.
After 2 minutes, Joao Pedro Freitas had a free kick in the counter. 20 minutes into the game, Michael Falkesgaard dashed the ball out of a row of passes.
Timor Leste tried to synchronize and complete the return, but Falkesgaard made a significant savings to keep 3 points for the Philippines. – I Rappler.co
[ad_2]
Source link