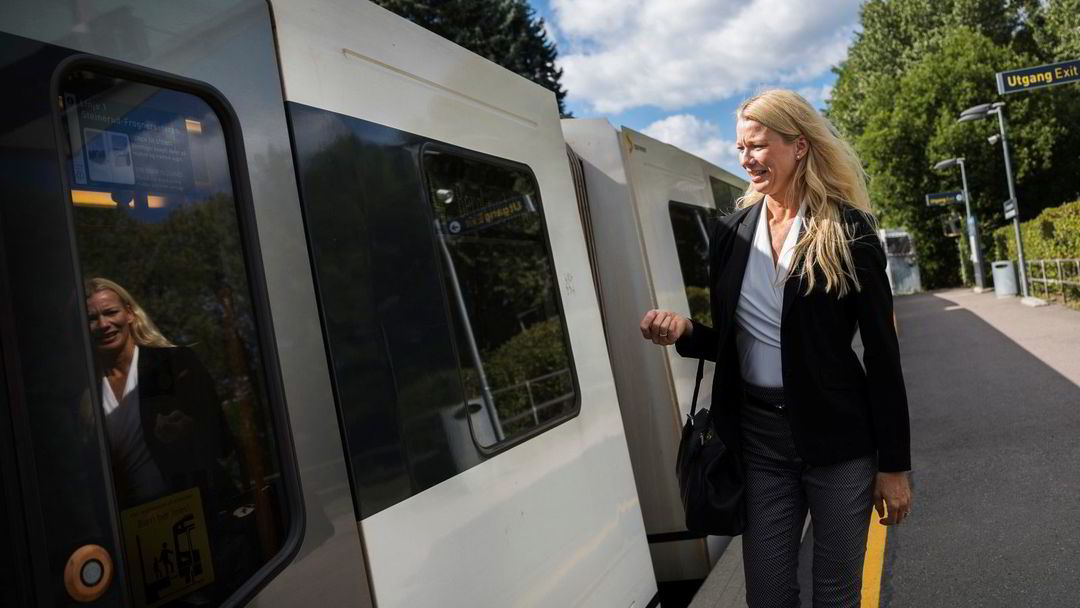 After a week full of results presentations from some of the world's largest companies, the last trading day of July ended with losses in the American markets. Thus, the week for the broad US equity index S&P 500 ended cautiously after hitting record highs on Monday.
Overall, the S&P 500 still rose 2.36 percent in July. The tech-heavy Nasdaq and the industrial index Dow Jones also rose more than one percent during the month. These indices are typically the most important indicators of the state of US markets.
– There has been more lateral development in the stock market in recent days. It's a bit of a wait-and-see atmosphere, says Handelsbanken chief economist Kari Due-Andresen.
Many of the heavyweights on Wall Street this week could face strong numbers for the second quarter of 2021. Apple, Facebook, Microsoft and Google smashed analysts' forecasts, but Amazon, the last of the five big tech giants, failed to live up to investors' expectations. – despite delivering soaring revenue of over $100 billion for the third consecutive quarter.
The worst case was for the Chinese market, where a number of new regulations by the Chinese authorities, including for tech companies, put heavy pressure on the country's companies. The weather is bad in Shanghai and Hong Kong stock markets, which have passed heavy weekly drops of between three and four percent as we enter August.
Looking forward, Due-Andresen's outgoing chief economist notes that the focus is on the United States, where statistics for "top numbers for the month" will be presented next week Friday.
It points to inequalities in the labor market
"Most important issue of the month" is a term often used for U.S. employment figures presented on the first Friday of each month. They reveal how many people were hired in the previous month.
Analysts expect 788,000 non-farm jobs to be created in July, according to analytics firm Dow Jones. Thus, unemployment will have decreased from 5.9 percent to 5.7 percent. This will be the lowest unemployment level in the United States since March 2020.
Still, Due-Andresen can point out that many analysts believe employment growth may be lower than the Dow Jones forecast.
– There are some mixed signals. The delta variant causes increased infection everywhere, but at the same time, activity has picked up after a few infection restrictions have been eased. Consensus expects strong growth, but inequalities still exist in the US labor market.
The chief economist explains that the demand for labor in the United States has increased significantly from the supply of labor. He believes this could potentially slow growth.
Negotiation with the British
Due-Andresen also emphasizes that the interest rate meeting at the Bank of England is something to follow next week. The chief economist doesn't think there will be a sharp tightening yet, but he doesn't rule out anything.
– It's important to keep track of how they're expressing themselves right now, says Due-Andresen.
He explains that the worrying contagion development the country has experienced after opening up more this summer will likely cause the central bank to wait for a while to change its expansionary monetary policy.
Due-Andresen highlights that several companies are using this sweeping wave of monetary policy during the pandemic. He believes this gives high values. Paradoxically, he believes, therefore, that new infection blooms can push them further.
– Now if this boom turns out to be delaying monetary policy tightening, it could be positive for the stock market as well.
Other quarterly figures pending
As the American business world enters the third quarter of the year, this summer's earnings flurry will continue into the next week. Among the companies presenting their second-quarter figures, the biggest tensions are with Chinese tech giant Alibaba, shipping company Uber and investor Warren Buffett's holding company Berkshire Hathaway.
Hydrogen car company Nikola will also present its quarterly figures on Tuesday next week. The company was in the media spotlight last week after it was learned on Thursday that its founder and former CEO, Trevor Milton, was accused of gross fraud and misleading allegations. Milton was released on $100 million bail on his alleged innocence.
Nikola's share price has dropped more than 14 percent since the news broke.(Conditions)Copyright Dagens Næringsliv AS and/or our suppliers. We ask you to share our cases using a link that leads directly to our pages. Any copying or other use of all or part of the content may be made only with written permission or as permitted by law. See here for more terms.
Source link