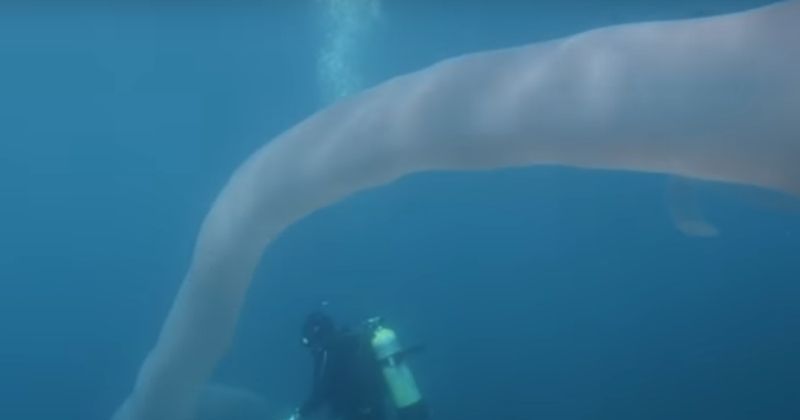 [ad_1]
It is not often that divers find mysterious creatures in the sea. Luckily, they can find a headless chicken or a strange sea creature that looks like the oldest shipwreck in the world.
In New Zealand, two divers came across a 26-meter worm-like sea creature, and this one came face to face. Reports show that when two diver, Steve Hathaway and Andrew Buttle saw the mysterious creature, White Island went into the Whakaari beach.
Read more: Whimsical Sea Creature Headless Chicken Monster Has Been Spotted Exuberant Memes Called
In a viral video, it shows the worm's changing shapes as it moves slowly in the sea. The strange creature is defined as a Pyrosome, a small creature that forms hollow tubes sealed at one end.
Read More: The Oldest Shipwreck of the World Found in the Black Sea 2,400 Years Ago
"I always wanted to see one. I was beyond excitement, like finding something you've dreamed of over many years, boyunca Hiltway said to NDTV.
Do not miss
<! –
->
<! –
->
How strange and amazing is that?!
<! –
->
window.twttr = (function(d, s, id) { var js, fjs = d.getElementsByTagName(s)[0], t = window.twttr || {}; if (d.getElementById(id)) return t; js = d.createElement(s); js.id = id; js.src = "https://platform.twitter.com/widgets.js"; fjs.parentNode.insertBefore(js, fjs);
t._e = []; t.ready = function(f) { t._e.push(f); };
return t; }(document, "script", "twitter-wjs"));
(function(d, s, id) { var js, fjs = d.getElementsByTagName(s)[0]; if (d.getElementById(id)) return; js = d.createElement(s); js.id = id; js.src = "//connect.facebook.net/en_US/sdk.js#xfbml=1&version=v2.9"; fjs.parentNode.insertBefore(js, fjs); }(document, 'script', 'facebook-jssdk'));
window.fbAsyncInit = function() { FB.init({ appId : '117787264903013', status : true, xfbml : true, version : 'v2.9' // or v2.0, v2.1, v2.2, v2.3 }); };
var scr = document.createElement("script"); //scr.src = "https://notifications.indiatimes.com/js/main.js" + "?ts=" + new Date().getTime(); scr.src = "https://staticresources.indiatimes.in/resources/themes/indiatimes_desktop_default/js/webnotification/main.min.js"+ "?ts=" + new Date().getTime(); scr.async = true; document.getElementsByTagName("head")[0].appendChild(scr);
[ad_2]
Source link