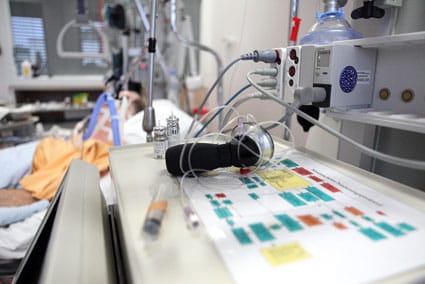 [ad_1]
When a patient is in Intensive Care (IC), it usually gives the family a weak feeling. They don't want to watch it defensively, but they're there to help their neighbors contribute to care. Any way. The IC nurses at Jeroen Bosch Hospital are therefore able to use the & # 39; participation menu & # 39; It was created. List of actions that can be assisted by family members such as washing hair, brushing teeth, reading books, helping with food and drinks. However, they hope to limit the impact – usually large – that a record has in intensive care. For both the patient and his family.
Security and support
A study by IC nurses Eline Schippers and Irene de Kroon showed that the family often helped to look after their loved ones. Irene: "We have seen that the family needs security and support. The family wants to contribute to the care of their neighbors. It is very important to provide information. The family wants to understand that they can be involved in a good way to understand what is necessary. "
The participation menu is an idea derived from Family Integrated Care. Family Integrated Care is a different way of incorporating a family into looking at their neighbors in the ICU. The children's department of JHA has been working on this method for some time now. Here parents are helping to care for their children.
What is important and necessary
Eline: "Recently, we had a very experienced patient in recent months. She was very sick and worried that she was sick. Her husband slept with her in her room, which made her and her family visibly beautiful. We're looking at what's going on and what this family means. "
The participation menu not only helps the family and the patient, but also ensures that health workers take more time for care where families cannot help. "In the beginning, it may take some time to accompany the family. However, if family members can do the actions on the participation menu once, we will keep ourselves in the background," he says.
Add & # 39; Participation menu nice & # 39;
The IC uses a variety of tools to make health services patient-friendly and family-oriented. Family rooms, after-care, an HR diary, a children's bag for child visits, family reunions and flexible visiting hours … The attendance menu is a nice addition.
Source: Jeroen Bosch Hospital
[ad_2]
Source link