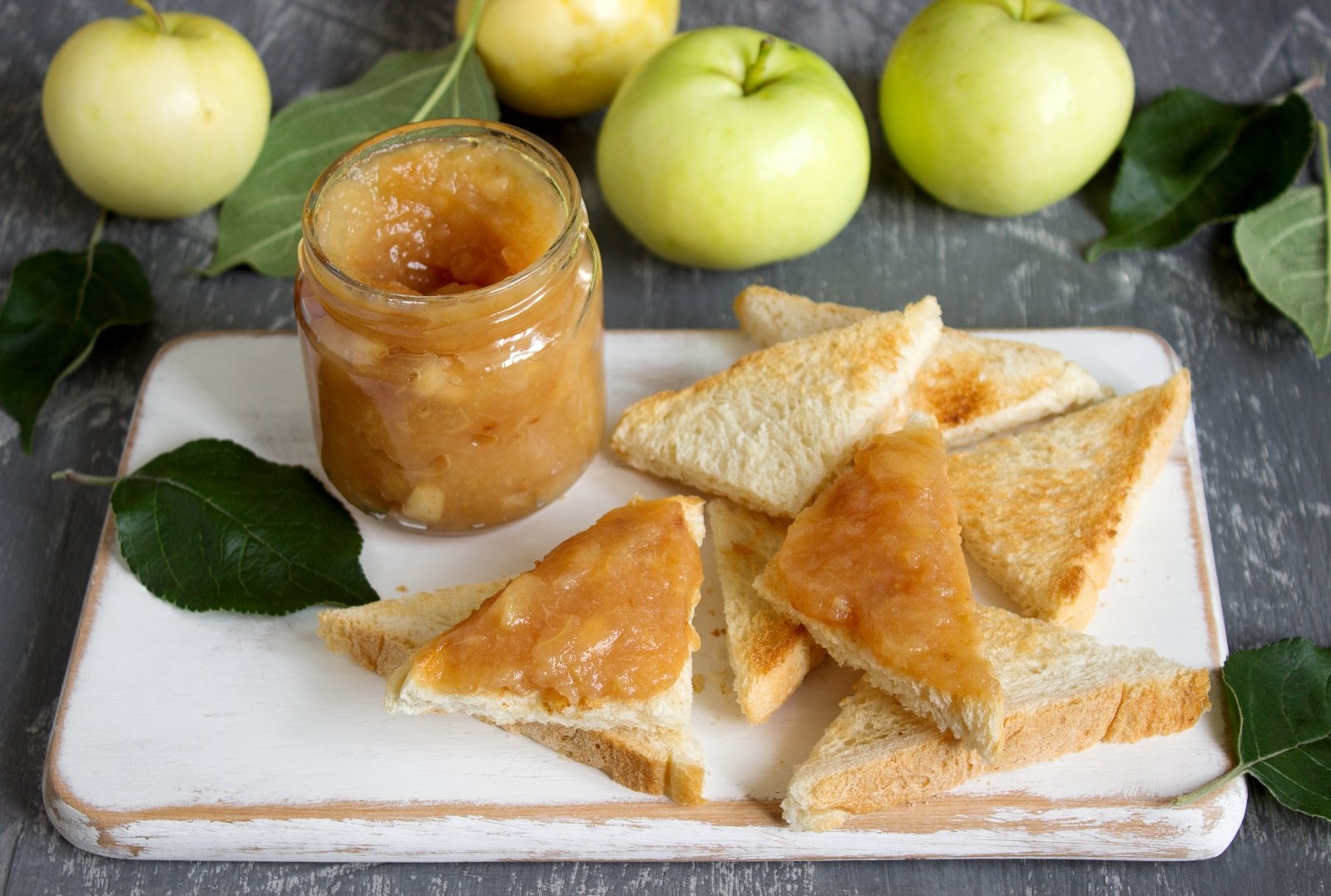 It is true that fresh apples retain more vitamins. But it can be quite boring just to chew apples until spring. Therefore, some may be assigned to other uses. The first thing made from apples is apples.
Sounds boring? Not many, knowing how many varieties of apples can boil. With pears, quinces, oranges, bananas, pumpkins, rhubarb, chocolate, various fruits – this is the limitless space for your imagination and experiment. And warm apple tea on cold days is a wonderful relaxing and warming thing.
After all, it is easy to prepare an apple. All you have to do is peel the apples, remove the seeds and cut them into small slices. The sugar content depends on the sweetness of the apple, but generally about one third of the weight of the apple is sufficient. Then you can add the desired ingredients and cook until soft. During boiling, it is possible to add some water to not be too thick and then to fill the jars and close them with lids.
Great with apples, feta or just curd. Put a loaf of bread, cake or natural yogurt. When making compote or sweet soup.
Another great way to keep apples in the winter is to dry them. It can be oven dried or in special dryers, but preferably in a straw oven if you can provide this luxury. For Christmas – compote, pies – traditional, naturally prepared dry apples – the most delicious, most delicious and most delicious!
Traders at the Central Kaunas Market in Urmas say many people still get their apples from the village, orchard or from friends and relatives they share. But there are many who are not themselves, so they buy.
Var There are people who have no connection to the village – and more than that – they buy apples. And not just for storage, but to remove something from them. For yourself or donations. There are many who remember various recipes from childhood and youth, boil and dry apples and turn them into cakes. It is often the case of expatriates returning to Lithuania or coming for a visit from Lithuania who want to bring something interesting. Also those who want to go there loved ones.
You'll get a very good gift for Christmas – a jar of Lithuanian apples, beautifully decorated. Put the dried apples in a paper bag, what a nice rope to tie. It's simple, but it's cute, I got nice gifts, "he said.
Apple with pears and oranges
1 kg cleaned, sliced ​​sour apple
2 medium size pears
1 medium orange
About 250 grams of sugar
Peel fruits, remove seeds, cut. The orange should be cut as thin as it is difficult to roll. Add sugar and store for at least several hours until the liquid appears. If you wish, you can also add a pinch of cinnamon before cooking. Then cook for about half an hour on low heat, pour into pre-heated jars and cover with lids. If you find that you need to add water, stir constantly to avoid splashing.
Perfect for heating tea and a great addition to a variety of desserts, you'll have an apple with a very light and spicy flavor for the winter.
Enjoy your meal!
The use of information published by DELFI on other web sites, media or elsewhere, or any unauthorized distribution of our materials, is strictly prohibited and should be referred to DELFI as a source upon permission.