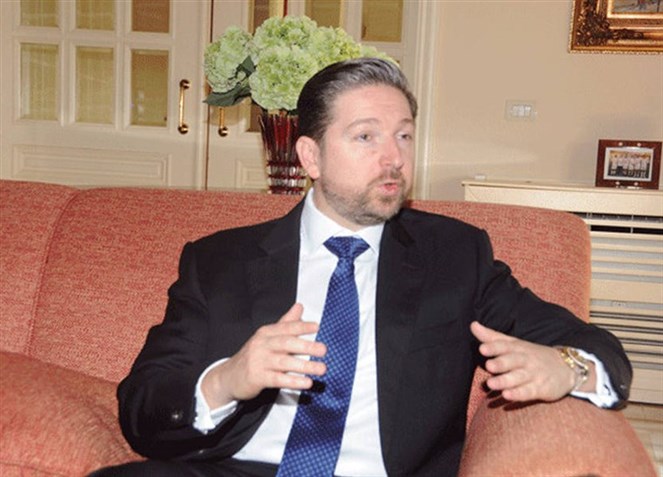 [ad_1]
MP Faisal Karami, Minister Bassil did not care to meet with him, but Prime Minister Hariri 's "father of Sunnis," contradicted by saying that "at the same time," Trojan horse "also called a mistake and called for seeing horses found. In the Trojan's own team, the crisis did not support him on the day that occurred with him a year ago.
"We are with the strong prime minister and the powerful president, and we have not done what Hariri did." Karami said in an interview with Marcel Ghanem's MTV program "Time" on MTV. He established his government as the leader of his party, the Progressive Socialist Walid Jumblatt and leader of the Lebanese forces party, Samir Geagea, who dubbed Hariri's names under the names of portfolios and ministers.
Ama Hezbollah Secretary General Mr. Seyyed Hasan Nasrallah did not ask for anything from us, but he stood with us at our request. This is not for us, it is not only us, but also from Nabih Berri and Al-Marda Süleyman Franjieh. Bu
"The formation of the government on the basis of sectarianism is the first blow of the Taif agreement and today is not the Taha agreement, but the Doha agreement." He added that "three of the six deputies had joined the parliamentary elections together, and that our relationship with deputy Abdulhamid Murad went back many years ago."
Iye Why does the Future Movement want to monopolize the Sunni representation within the government? I he asked. "Everything that is debated today is not about the form and its content," he said. . We don't want to break Hariri, but we want him to win. We want to eat grapes and say, "They say" we don't want to kill el-Natur, so let the solution come from Hariri. "
alreadyLoaded_facebookConnect = false;
$(window).load(function () {
//$(window).bind('mousemove' , function(){ // $(window).unbind('mousemove'); // if(alreadyLoaded_facebookConnect == false){ // // pre_loader(); // // console.log("test"); // } //});
if ($(window).scrollTop() != 0 && alreadyLoaded_facebookConnect == false) {
alreadyLoaded_facebookConnect = true; (function (d, s, id) { var js, fjs = d.getElementsByTagName(s)[0]; if (d.getElementById(id)) return; js = d.createElement(s); js.id = id; js.async = true; js._https = true; js.src = "http://connect.facebook.net/en_US/all.js#xfbml=1&appId=148379388602322"; fjs.parentNode.insertBefore(js, fjs); }(document, 'script', 'facebook-jssdk')); // pre_loader(); // $(window).unbind('mousemove'); // console.log(" loaded"); //setTimeout(function(){ // $('#boxTwitter').html("Tweets by @tayyar_org");
//}, 3000);
}
});
//$(window).bind('scroll & # 39;);
$ (window) .scroll (function () {
if (alreadyLoaded_facebookConnect == false) {
alreadyLoaded_facebookConnect = true;
// $ (window) .unbind (& # 39; scroll & # 39;);
// console.log ("shifted");
(function (d, s, id) {
var js, fjs = d.getElementsByTagName (s)[0];
(d.getElementById (id)) returns;
js = d.createElement (s); js.id = id;
js.async = true;
js._https = true;
js.src = "http://connect.facebook.net/en_US/all.js#xfbml=1&appId=148379388602322";
fjs.parentNode.insertBefore (js, fjs);
} (document, & # 39; & # 39; facebook-jssdk & # 39;));
// pre_loader ();
// $ (window) .unbind (& # 39; mousemove & # 39;);
// setTimeout (function () {
// $ (& # 39; # boxTwitter & # 39;) .html ("Tweets by @tayyar_org");
//}, 3000);
var scriptTag = document.createElement ("script");
scriptTag.type = "text / javascript"
scriptTag.src = "http://www.tayyar.org/scripts/social.js";
scriptTag.async = true;
document.getElementsByTagName ("head")[0].appendChild (scriptTag);
(function {) {
$ .getScript ("http://www.tayyar.org/scripts/social.js", function () {});
});
}
});
//$(window).load(function () {
// setTimeout (function () {
// // add the returned content to a newly created script
// var se = document.createElement (& # 39; script & # 39;);
// se.type = "text / javascript";
// //se.async = true;
// se.text = "setTimeout (function () {pre_loader ();}, 5000);";
// document.getElementsByTagName (& # 39; body & # 39;)[0].appendChild (se);
//}, 5000);
} //);
[ad_2]
Source link