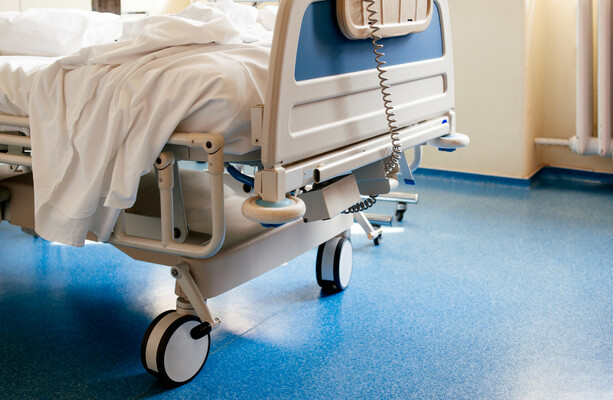 Updated 33 minutes ago
HSE said that 10% of people who tested positive for Covid-19 yesterday were vaccinated.
Speaking to RTÉ's News at One today, HSE Chief Operating Officer Dr Anne O'Connor said one in five people admitted to hospital with Covid-19 have been vaccinated.
He said Covid acceptance rates among vaccinated people are higher in other jurisdictions. Dr O'Connor said that those who were vaccinated and admitted to the hospital with Covid had better outcomes and did not get as sick as before.
This morning, there were 89 Covid patients in the hospital, 20 of whom were in intensive care, and 30% of the cases were in two hospitals; Mayo University Hospital and Letterkenny Hospital.
Alongside Covid care, Dr O'Connor said hospitals were "extremely busy" with people presenting to Emergency Departments and people coming in for "usually long-awaited procedures" and other planned care.
"Looking at the broader picture in terms of the increasing number of people testing positive, that's a concern for us, we know the positivity rate in the community is about 9%, and we've seen it in every fluctuation so far. "Despite the highly successful vaccination program, the higher community transmission rate will lead to more hospital admissions," he said.
some of us #COVID-19 Svabbing sites now have up to 25% positivity in tests and are at 10% in many counties. The more common it is in the community, the more it can spread to the vaccinated. Let's all be careful for a few weeks, aiming to eliminate it and reduce the disease. @HSELive

– Paul Reid (@paulreiddublin) 20 July 2021
Dr O'Connor said there was a greater spread in terms of age groups in people who came to the hospital as Covid positive. However, he said that some of these people applied to the hospital for different reasons and then their tests came back positive.
Professor Philip Nolan, head of the Irish Epidemiological Modeling Advisory Group last night, warned that a wave of Covid-19 infections in young people in Ireland would break the protection offered by vaccines and lead to serious infections among the elderly and vulnerable groups.
In a series of tweets, Nolan said the current increase in cases is "comparable or steeper than" the first part of previous waves.
The growth rate is currently 5-7% per day, giving a doubling time of 10-15 days; These estimates are rather unstable given the very rapid increase in cases over the past few days. pic.twitter.com/QVmQcTNbCL

— Professor Philip Nolan (@President_MU) 19 July 2021
He said that this will not turn into serious diseases and deaths as before, but the numbers in the hospital have increased, yesterday morning 101 these Covid patients were in the hospital.
This won't turn into serious illnesses and deaths like it used to be, but numbers in hospitals are increasing: 101 this morning. The ratio of admissions to cases is 16 admissions per 1,000 cases, we are tracking 15-25 admissions per 1,000 cases overall. 2/9 pic.twitter.com/yU1JHP2c92

— Professor Philip Nolan (@President_MU) 19 July 2021
Nolan noted that the number of cases on Sundays and earlier in the week tends to be lower, and the numbers over the next few days will be an important indicator.
Cases are currently concentrated mostly in older teens and younger adults, but health officials are starting to see an increase in incidence in other age groups, including those aged 65 and over.
"The incidence in 16-29 year olds is increasing rapidly, higher than what we have seen since late January 2021 and higher than the October 2020 peak," he said.
"The incidence varies by county, but in most counties a 7-day incidence is significantly greater than 50% of their 14-day incidence, indicating rapid growth in these counties."
Professor Nolan said a wave of infections in the young would cause serious illness and long-term complications in a large minority, and would "exceed vaccine protection, causing dangerous infections in the elderly and vulnerable."
"We know what we need to do: support those who are not yet fully vaccinated to socialize safely outside and at a distance, and we all self-isolate and seek a test if symptomatic, avoid crowds and crowded areas, and basic public health and hygiene measures," he said.
indoor dining
Government officials will meet with representatives from the restaurant and pub industries later today to discuss guidelines for the safe reopening of indoor dining.
#Open journalism
No news is bad news
Support the Journal
Your additives help us continue to deliver the stories that matter to you
support us now
Areas such as social distancing, air conditioning and time limits were discussed.
Speaking to RTÉ's Morning Ireland today, Adrian Cummins, Chief Executive of the Irish Restaurant Association, said there was a "contradiction" by the RAI as to when customers should submit proof of vaccination.
Cummins said it should be required at the point of sale in certain facilities, such as food courts, as businesses will need to hire additional staff.
He said he did not expect the numbers allowed to sit together at tables to change.
"We want to make sure everyone is on board, starting next week when we reopen our business it is vital that this is the end, there is no going back and we start living with Covid as an industry in the future. "As an economy and society," he said.
Tomorrow, the Cabinet will give the final signal about the reopening of indoor dining in bars and restaurants.
Speaking with Claire Byrne on RTÉ Today, Finance Minister Paschal Donohoe said he was "hopeful" that the plan to allow it to reopen next Monday will continue, but the government must be satisfied that it is consistent with what is "necessary in public health". view".
The minister said the vaccine program has made good progress with more than 350,000 doses administered each week for the past five weeks.
"In the battle between infections and vaccine injections, we're making such progress," he said.
He said the country was battling a "cruel and ever-evolving" disease, but the government needed to look at "how to have a safer and more sustainable society".
"Accommodation has been open for some time in many other countries, and in fact other countries are now looking at how they can implement forms of a system quite similar to what I hope we can implement," he said. I said.