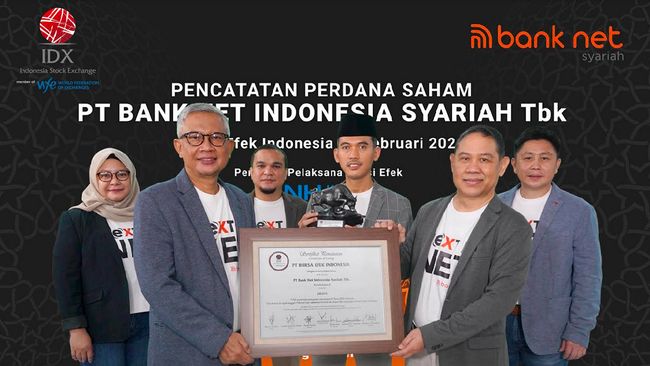 Jakarta, CNBC Indonesia – PT Bank Net Indonesia Syariah Tbk shares. (BANK) took the lead top winners At the close of the first trading session on Tuesday, 23/2/2021 at the IDR 1.390 / share position with a strengthening price of 14.88% IDR.
IDX data indicated that Bank Net Syariah shares reached Rp 213 billion with a transaction volume of 158.24 million shares. Local investors recorded buying actions controlling 99.89% of the transaction value of Rp 213 billion, while foreigners only controlled 0.11%.
Domestic purchases reached Rp 212.5 billion and sold Rp 212.8 billion.
Last week, BANK shares ranked second with the highest earnings (15-19 February 2021), although the trading of stocks was suspended (temporarily suspended) on February 17 and 18.
Market capitalization reached IDR 18.15 trillion, up from IDR 14.82 trillion last Friday. With this strengthening, BANK's shares rose 1.250% from the initial offer price (IPO) of Rp 103 / share, or almost a month.
In comparison, PT Bank Syariah Indonesia Tbk (BRIS) minus 14% share per month at IDR 2,780 / share year to date (ytd) increased 797%. PT Bank Panin Dubai Syariah Tbk (PNBS) shares rose 5% monthly and ytd 70%. Shares of PT Bank BPTN Syariah Tbk (BTPS) rose 14%, ytd minus 22%.
BRIS officially took the floor on the stock exchange on May 9, 2018, with the IPO price of 510 IDR / share or a 445% increase from the IPO price in 3 years.
Shares of Bank Net Syariah are controlled by PT NTI Global Indonesia and were listed for the first time or listed in IDX with IDR 103 / share starting price last Tuesday (2/2/2021) and received an IPO (initial IPO) 515 billion IDR.
Referring to Bank Net Syariah's public offering introduction document, the company management stated that the company is currently in the phase of adapting to the retail segment through digital banking, where BANK focuses on developing its IT infrastructure and digital banking products.
Some of the supportive sentiments are the Islamic banking industry in Indonesia, which is experiencing fairly steady growth each year.
The positive feeling is that from 2016 to 2019, the CAGR of Islamic banking assets exceeded the growth rate of 13.36%, financing 12.72%, and third party funds (DPK) 14.25% and traditional banking.
In addition, the Islamic banking prospect based on historical data shows that Islamic banking has great growth potential in Indonesia.
This is supported by several key factors such as Indonesia, the largest Muslim country in the world, the level of Indonesians who cannot be connected to banks is still high, and the market share of Islamic banking in the banking sector is still low, only 6.00% in 31 December 2019.
"There are only 14 Islamic commercial banks currently operating in Indonesia, which leaves the space too large for Islamic banking," Bank Net management wrote in a statement on the business outlook for digital Islamic banks.
Then, the next feeling is the prospect of digital banking, digital technology will transform and transform the banking ecosystem in Indonesia.
According to McKinsey Research In 2019, the banking sector in Indonesia showed a tremendous trend of shifting traditional customer users to digital banking compared to the 2014 survey.
"Digital penetration has now reached 1.6 times compared to 2014 and reached 58% in line with the transformation in Asia's emerging market countries," the BANK management quoted McKinsey.
[Gambas:Video CNBC]
(purse bag)
Source link