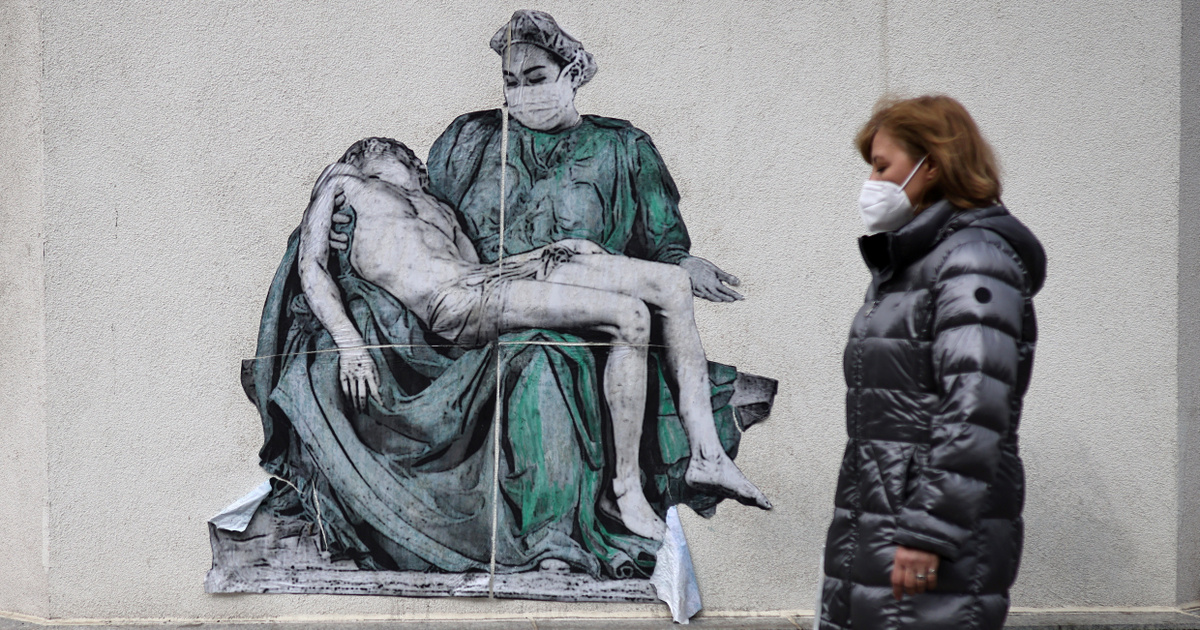 The fact that the situation is serious is not demonstrated by the fact that Human Resources Minister Miklós Kásler personally visited the hospitals that were right at the time of the emergency. He said he saw a young man come to life in a video after his visit to the National Korányi Chest Diseases Institute. We can only hope that the minister will arrive at Almási Balogh Pál Hospital Ózd, which is the Almási Balogh Pál Hospital and, among other things, dreamed of recordings made in Italy last year at the Ózd hospital. A few days ago, the index asked its readers to write about their experiences of the epidemic, illnesses, and resurrections. Many people grabbed the keyboards to explain the inexplicable.
Shabby window frame with cobweb lace. A foot in the thread dangles in the air, a body cut off next to it, the wind playing with it. He paints a rainbow of light needles that penetrate his lifeless wings. A nice dead man. Everyone wants to be beautiful, but nobody dies. It is crowned with eyepieces in a chlorinated hospital sheet.
Laura, in her 40s, fell ill one night in mid-November, her partner had to call an ambulance. His doctor had previously given sick leave for sinusitis. The ambulance took him to the emergency room on suspicion of a stroke. There, on the first CT scan, the doctors noticed a trace of Covid infection.
I did not feel anything from pneumonia. They took a sample and left it home. A few days later I had convulsions, attacked my nervous system, was hospitalized, treated with steroids by infusion. Lumberitis was done, the virus was found to cause encephalitis. As they got better they started tapering the medication, I fell back. My suicidal thoughts attacked me. I then took a bottle of sedatives and then got rid of psychiatry. Then they switched to neurology where I received plasmapheresis. Essentially, blood plasma is changed. This brought a breakthrough in recovery.
Since then, Laura has been taking medication, going for control. He is officially recovering for the fourth month in a row, and his doctors say he needs at least another month to work.
Wearing a sleeve, to disinfect the mind, that means: just a small hole and hitting the heart. Drain secrets, grasp them in an apron, remove traces, brush them, find an excuse for your mother. To call Jesus to your father, to raise him. Crying under the bed, denying that you live, denying denying, lying moments lying, removing every little point with error correction.
The disaster of Ivett's family started on Tuesday, March 2nd, and he felt bad at the time. first her husband. Diagnosis of terrible flank pain: intercostal neuritis. On Sunday his condition worsened and he had to be taken to the hospital on duty. He caught pneumonia caused by the coronavirus. Three days later, Ivett had a fever of almost 40 degrees, a pain in his back and chest, and after a short time he had:
the kind of thing a man could hardly bear to touch his clothes! I had all sorts of pains for 3 days, but that was just fire! Everyone had a taste and a smell, my husband had already taken a second dose of medicine. The boy is so tired that he can barely get up. My husband's side still hurts so hard that he is barely breathing! So 4-5 days passed and then I was surprised that I was better, I got up, I did, I took the dogs out! My husband has improved a little, so is the boy!
However, Ivett and his family rejoiced at an early age. Two days later, his fever suddenly sprang up, as he said later: well, that's where the real party begins! He immediately had to call a doctor who gave him antibiotics. Four days of high fever and antibiotic therapy ruined her stomach for hours after reflux, she couldn't hardly eat or drink for days.
I didn't even have the strength to take a bath, horrible weakness and muscle aches! Fight batteries to keep the medicine in! Terrible thirst and relentless pain and weakness! Taste and smell nothing!
Ivett's only consolation during these hours was that the boy's condition eventually improved a little, although it was still exhausting.
My husband's side still hurts a lot. Continuous heart rate measurement is almost sick and scary when it takes you to the ambulance! Total mental collapse… I've never been this deep in my life! I already lost 3 kilos, I do not eat, I do not want to drink slowly! But you must get rid of this horror! My family is here! I had a totally crazy mood, daily panic attacks, fear of death, and then a burst of anger that drowned out screams and crying! My husband is trying to comfort me but he doesn't go much …
Ivett finally got a fever on the 13th day after the first symptoms, he already has "only" fever. Your stomach is still bad, but as you say: you can finally eat now! True, in turn, a suffocating, suffocating dry cough began to appear in seizures. However, your doctor will not prescribe any medication for you, you have to cough!
On her husband's 25th day coroner, he needs to go to tests because his flank pain is still torturing him, but they really don't want to be tested because he's crowned! The boy had symptoms for 15 days, his calf was so sore for the last time that Ivett had to give him a pain reliever. Nobody in the family yet has a sense of smell or taste.
So much grief has been forgotten in the world. Too much, too little, we'll get through that too, just take over, take over the love, if you can, until it's too late until it's too late to switch to the ventilator.
Kriszta and János have been married for 15 years, in high school for 20 years – their true love of students. Kriszta says with a smile, "Good or bad, in a virus," but that smile is no longer real.
We have wanted children for a long time, we haven't met until now. We were preparing for another implant that requested a Covid test. Although we had no symptoms, it was positive for both of us. We thought we were among the lucky ones unnoticed by the virus. Hope lived for three days, and John had a 40-degree fever Thursday night. It took very little air, we had to call an ambulance right away. Since we had already checked the protocol by then, we reported our infection to the GP, help came relatively quickly. He was immediately taken to Budakeszi út, where he was attached to the ventilator. Two days later, the chief physician called me to say goodbye and didn't give me a 10 percent chance to live. I said I was positive but asymptomatic too – only in quarantine. He said he couldn't do anything then, wouldn't let him in. He even asked if anyone could take care of me. I said my husband's family was with me.
Kriszta called the hospital every two hours the next day. Towards evening the tears were over, his voice was gone. He was able to meet with the chief physician before 22:00 and he said no change. These two words to Christ meant more than his life as he expresses it today. He didn't even want to know what treatment or medicine John was taking. At any time during the next 96 hours, the phone rang and his stomach was bored.
Four more terribly long days: between life and death for her, in complete despair for me at home. A week later, the chief physician saw a small chance and said he was responding well to the drugs. Two weeks later, she woke up in her fourth week now in the hospital. He can't speak yet, but he's already moving his limbs. Maybe you can come home after 10 days.
I do not remember. Am I back or will I leave? I don't remember, there is nothing in that, nothing happened yesterday, poor quality clones of ourselves. A disposable glass of wine, a restraining order to shag, a meter and a half for anything that kills.
By Wednesday dawn I lost consciousness. I knew I had covidos, fever, sore throat, and mild cough. So at dawn, I went to the kitchen to drink water but couldn't reach the tap. I got better in Korányi after eight days. Doctors said my lungs stopped almost completely. Or I was given eight to ten different drugs, a good couple had been vaccinated. I really didn't feel anything, couldn't move or speak. My brain worked, I tried to communicate by nodding, winking, as I saw from patients in the American medical series, but at the same time it was so tiring that I quit. The next 10 days went like this: I slept, opened my eyes, tried to communicate, I got tired. About 3 weeks later they took them out of the machines, now I'm learning to talk and walk again. My brain is clear, but everything else is lost. Although I am only 27 years old, I live from my memories and hopes.
To teach to cry tomorrow, to relieve the day after tomorrow. Travel in dew bubbles. Wait wait. Swimming, dying on the palm of your hand, drawing the common path on it with strong lines. Close it, squeeze it, maybe it's the last minute!
Stephen started coughing after his usual morning run. For the first time, he realized that his resting heart rate would not return after the run, his heart beating "as if he had taken another five thousand rounds." His back ache as if a nail was constantly hitting him. He immediately went to the doctor who diagnosed pneumonia on his own. Blood sampling, X-ray, and a positive Covid-19 test confirmed this within 24 hours.
I didn't want to go to the hospital, instead I chose home healing. I triggered the medications my doctor prescribed – favipirapir, Algopyrin, Azithromycin, Lixiana blood thinner, vitamin C, vitamin D – and also threw an oximeter. I had a persistent fever and coughed very hard. In the following days, I was having such a headache that I could not move. My smell and taste are gone. My heart seems to want to pop out as my strength fades. It was getting harder and harder for me to breathe, as if I was breathing more sand instead of air. I could only endure in the daytime, but at night I was always deeply depressed with high fever and constant coughing.
Stephen was really desperate when he didn't see him one morning, about a week later. He had previously had a burning, itchy sensation in his eyes, probably very ruptured, but not yet. The ambulance arrived for him a quarter hour ago, when he was diagnosed with a virus attacking the optic nerve. Stephen is in his third week in the hospital. He can already see vaguely in the spots, and his lungs are healing well. Maybe he'll be home after Easter.
The stories contain excerpts from the portfolio of Barbara Döme, Virus Reserve, courtesy of the author.
(Cover image: A graffiti redefined of Michelangelo's Pieta. Stoyan Nenov / Reuters)
Due to the sensitivity of the subject in this article, we do not find it ethical to advertise.
See the Indamedia Group Trademark Statement for details.