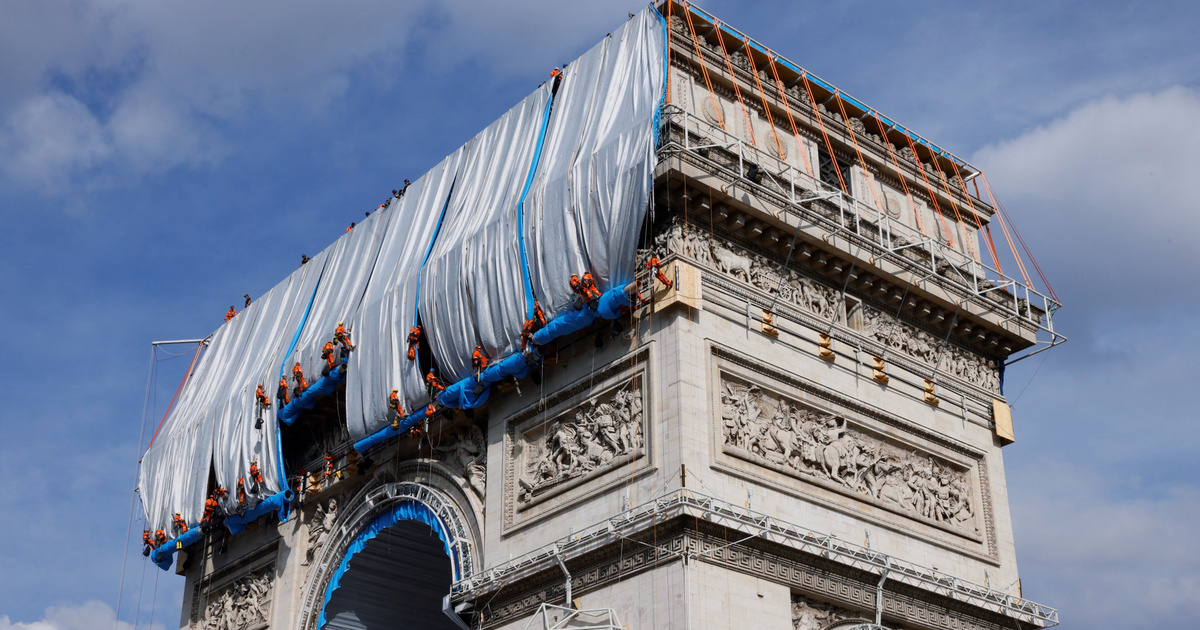 The cladding of the Arc de Triomphe in Paris has been completed. The action was the last big plan of a Bulgarian-born concept-art artist who died last year. For the work, which has been going on since Monday and was completed on Monday, the team of 95 people used 25,000 square meters of recycled materials.
Christo and his French wife, Jeanne-Claude, who died in 2009, began work on plans to cover the Arc de Triomphe in 1962. The artist also made a photomontage of how he envisioned the realization at that time, but abandoned the plan because he thought it would never be allowed. Four years ago he reconsidered his plan in connection with an exhibition and, to his greatest surprise, was blessed by the Paris city administration and the preservation of monuments.
After his death, the project was carried out completely according to Christo's ideas, under the direction of the artist's nephew, Vladimir Yavachev. The cost of the 14 million euro work was covered by the sale of Christo's preparatory work – drawings and models.
The official opening of the Wrapped Triumphal Arch will be on September 18, and the packaging will begin to be dismantled on October 3.
Vince Davenport, an engineering consultant with whom Christo has worked for 35 years, said this about what it all means:
The point of their project is that they are unique, they have never done it before, and they will never do it again.
Born in Bulgaria as Cavachev, Christo Hriszto moved to New York in 1964 after studying art. He is one of the first representatives of the concept-art movement connected to the pop-art movement of the 1960s.
He started his activity that made him world famous by wrapping large and small objects in 1958, and since 1961 he has surrounded public buildings and landscape elements. The most well-known of these are the packaging of the Pont Neuf Bridge in Paris (1985), the Museum of Modern Art in Chicago (1969) and the Reichstag in Berlin (1995). He built a pyramid (mastaba) made of barrels in the UAE in 2007, and another mastba on Serpentine Lake in London's Hyde Park in 2018.
(Cover image: The Arc de Triomphe will be completed in Paris on September 13, 2021. Photo: Lucas Barioulet / AFP)