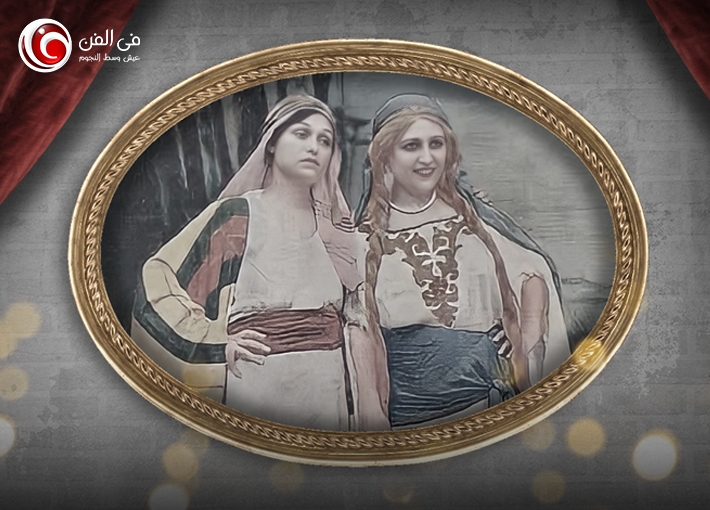 Do you remember when the great painter Fouad Al-Mohandes sat among the daughters of the shelter and sang "The little bird house in the nest" in the play "Still Habibti" ???????????????????? ??????????????????????????????????????????????? ?????????????????????????????????????????????? ??????????????????????????????????????????????? ?????? ???
Do you remember the beautiful voice girl who asked her for her name and said: "Monotonous and fair" and her name was one of the words of the play we laughed about.
Who is monotonous and fair and what is the story of "Rushdie's Daughters"?
At the beginning of the twentieth century, he lived in one of his Alexandria homes with the family of a wealthy merchant, a confectionery factory, and his four daughters (Ratiba, Equif, Fatima, and Aziza), who lived with the affection and affection of his father. and mom.
Like the old and rich household habit of that period, the atmosphere of culture and art love deepened by the most educated grandmother, who was represented in the opera scene and read foreign novels she participated in, prevailed at home. Wife of Khedive, an educated lady who speaks French, Turkish, Greek and some Arabic.
But the fate had a different view, and this calm atmosphere did not last long. Subsequently, the father suffered great financial losses and his factory went bankrupt, he was unable to catch up with new sugar types, and the family's financial situation emerged. its most difficult situation and the journey of "girls" in the art world has begun.
Today the protagonists of our story "Monotype and Equity Rushdie", unfortunately, the artistic memory has saved us nothing from their art, and what we get about their art is nothing more than hundreds of artists and oral stories. Thousands of works lost in front of the cinematography cameras that revive the memory of the lucky ones. Those who followed them, the news, even the details of their lives reached us through their younger sister "Fatima" for the cinema itself. The absence of the two elder sisters' lenses has written eternity while wasting their artistic history.
Four sisters worked in the arts, each with its own direction, inclinations, and share of success and fame. His older sister Aziza preceded them, working as a professional dance artist in Alexandria, followed by two sisters, "Ratiba" (born 1903) and "Insaf" (born 1907), one of Alexandria's most famous theater groups, "Amin Atallah. "He joined the theater group, started singing and acting, and success was their ally, especially in light of the scarcity of actresses and singers at that time, when the theater sometimes used male actors to perform female roles.
While her younger sister "Fatima" continued to watch what her mother and sisters had accomplished, she did not know she would be the luckiest of them and would be the only one among them that history would preserve with sound, image and image. biography, hero of the first Arab movie "Tragedy Above the Pyramid" in 1928 and one of the most important Arab movies. Until the entire "Determination" group in 1939 bore the name "Sarah Bernard of the East".
A theater career lost before being documented
The two sisters have remained monotonous and fair-minded for most of their lives, except for short periods of time when they broke up and each worked in a different group and theater.
Ansaf Rushdie worked as a player at the "Casino de Paris" in 1921 and participated in the presentation of the play "Al-Saad Waad" in Sheikh Mohammed Yunus El Kadi. He spent no more than a year in this casino. , until he suddenly retired and disappeared for five years … The reason for this absence was said … It was due to an unfinished marriage experience.
Photo artist Insaf Rushdie
After a five-year hiatus, he returned again in 1926 to work in theaters and casinos, this time with his sister Rutaiba as one of the actors in Ali Al-Kassar's "Majestic" theater, but did not return. He lived a long time with Al-Kassar and left him the first opportunity with a higher pay.
The next step for justice was the band "Amin Sidqi", which left Ali Al-Kassar and formed its own company in the theater "Semiramis" on Emad El-Din Street, and several plays were staged with it: "Count Zakkuz" and "The Kingdom of Wonderland". Ensaf stayed with Amin Sidqi. Until Al-Istiqlal decided to open a private salon in his name in 1927.
Insaf Rushdie sits in the "Mounira Mahdia" seat in "Bijou Place"
He started his journey with solo heroism and special success with a large sign called "Ensaf Rushdie Hall". Its name is right next to the names of the best theater groups and their names are among the names of art stars. Time in the popular "Imad Eddin", a bastion of art and singing, and the hall Insaf rented was originally a hall. Mounira Mahdia's Peugeot Plus.
Ensaf did not perform in his new hall and was content to sing and included several singers of that era, such as: Wajida, Rouhi, Hikmat Al-Iskandariyah, Fawzia Sabry, Louisa, Naima, then her older sister, "Aziza Rushdie, whom we mentioned at the beginning of the story".
As for his older sister Ratiba, he acted between Naguib al-Rihani and Abd al-Rahman Rushdi until Ali al-Kassar and Amin joined Sidqi in 1924, but unlike Amin Sidqi's younger sister Ansaf, with whom Sidqi broke up. In 1925, Kassar was not impressed by the salary increase, choosing to stay with what Amin Sidqi offered him and El-Kassar and became the hero of the group and had many tournaments with him.
Until he joined INSAF jointly in 1929 and opened a new hall called "Monotonous and Fair Rushdie Hall" on Fouad I Street (now 26th of July Street), but this hall was short in life and only lasted six months and to maintain safety. This year, on the orders of the Egyptian police Hakamadaria in April 1930, due to frequent quarrels and riots among its clients.
A dialogue with Ratiba Rushdie in Rosalie Youssef, 1928
Duo, uniform, fair and 4 new galleries in ten years
The 4 different halls, which were the result of the duo's thirties monotonous and fair, did not take a few months, especially after the police station closed their halls on Fouad Street, until June 1931 opened a new hall, and they rented the "Mahdi" casino and named it "Insaf Rushdie Hall". they gave. To escape the administrative decision in power that led to the closure of the "monotonous and fair hall".
In the summer of 1932, the economic crisis forced Necib Al-Rihani to leave his theater "El-Fantazio" in Giza, so the two sisters rented him and opened a "monotonous and fair hall" and the hall lasted for a long time. about a year.
From Giza to Al-Alfi Street, you move the monotony and fairness of the halls and you start a new season in which the activity of the hall increases with games, and this place was named "Casino" instead of "Hall", thus "Badeea Casino and Insaf Rushdie" throughout the 1934-1935 season. continues.
The last thing that comes to us about them … and their stories with Fawzi Al-Haw (after Mohamed Fawzi)
Over time, the two sisters began to expand the casino and develop their activities, just as they added theater to their singing and dance program, the 1938-1939 season (the last of their biographies in the art historians office) was developed for singing, dancing, games and providing various sketches and the casino and making it into cabaret.
The halls and casinos of Ratiba and Insaf Rushdie knew many artists, the most notable of which was the artist Mohammed al-Haw (Mohammed Fawzi), and when he became famous and became a fan, Badia Masabni was five pounds a month in his group with Maha, but soon a disagreement broke out between them. and quit., He started to continue cinema.
In her work with Rutaiba, Fawzi was fair to get to know her sister Fatima, who went to the movies and, according to the stories, was attached to a long-lasting love story, so Mounira al- Mahdia left to help her work in cinema and actually helped her and her first job in cinema was the songs. Singer Shahrazad sings "Straight Path", Jumba, Jump with Riad Al-Sunbati and Mohammed Al-Qasabji and his name were written in the sequences of the movie "Fawzi Al-Haw", and the melodies were the beginning of his arrival in the world of cinema.
—————-
Resources:
– "Memoirs of Fatima Rushdie" was published by Attorney Muhammed Rifat, "House of Culture" in Beirut – Lebanon.
– "Theater march in Egypt 1900-1935: Lyric Theater Groups" book – Dr. Syed Ali Ismail – Awarded By "Egyptian General Book Authority"
Source link