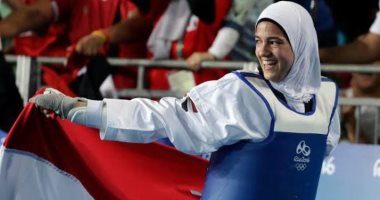 Wael Mahran, coach of Egypt's taekwondo champion and Tokyo bronze medalist Hedaya Malak, confirmed that winning the bronze medal is a great honor and a historic achievement for Egypt: "Women's bronze medal in the 67 kg in Tokyo 2020 Olympics is a historic achievement and It is a great blessing of Allah at this coronation. Our Lord knows this effort, He knows what we are doing with the actors and how much effort the actors themselves put into it."
Mahran, in a televised statement to On Tam Sports with Saif Zaher on the Ontime Stadium program, explained that Hedaya Malak's journey in the Olympics was difficult, she changed her balance after playing and started playing at 67 kg. 57 kilos in the last Olympics.
Mahran confirmed that Hedaya had recently returned from a major injury and had undergone physiotherapy two days before her trip, noting that she competed with one foot in the Olympic qualifiers.
The duo, Hedaya Malak and Seif Issa, managed to put a smile on the faces of all Egyptians on Monday when the Egyptian flag made its first appearance on the podiums, after each winning bronze medals for the Tokyo 2020 Olympic Games. The start of the tournament in the Japanese capital.
After celebrating Egypt's stars and makers of great success, he started talking about exchanging prizes for the duo after the Olympic Committee, chaired by Hisham Hatab, announced that they had awarded $5,000 each to Hedaya Malak and Saif Issa. After winning the bronze medal equivalent to 78,000 Egyptian pounds.
At the same time, the Taekwondo Federation, headed by Amr Selim, announced that on the third day of the tournament, which officially started, each player would be awarded £200,000 for valuable medals that raised Egypt's balance to two medals.
Less than 24 hours after Hedaya and Saif's historic success, the total prize money for the duo is £556,000, with £278,000 each.
Source link