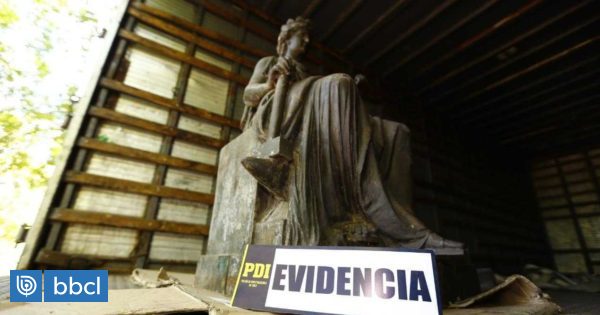 [ad_1]
PDI staff saved more than 10 stolen statues. These included the statue of Buenos Aires "La República", stolen from the Rubén Darío plaza in Playa Ancha in 2003. The work was an address for the neighbor of San Francisco de Mostazal in O 'Higgins.
They were detectives of the Research Officer for the Encounter of the Encounter of the Encyclopedia of Environment and Cultural Heritage (BIDEMA).
Pablo Ibarra, chairman of Valparaíso's BIDEMA, said the investigation had emerged with a photograph published in the local newspaper and that the ID Republic # was a place in the country. This has been added to a complaint at the reception in Olend Bu Bu Higgins.
Many values ​​could not be calculated for the country's cultural heritage. These include The statue of the "Republic", as well as 2 silver chests stolen from the San Francisco de Santiago Church, was the 8 statues of the General Cemetery and two of the Santa Lucia Hill.
In addition, the archaeological and paleontological species identified in the Monuments, Weapons and other articles of the Pacific War were seized.
This is the result of an analysis of BIDEMA, which resulted in the search of a house in the old La Punta, where the recovered statues were reported for theft and were included in the catalog of the stolen historical monuments of the PDI.
[ad_2]
Source link