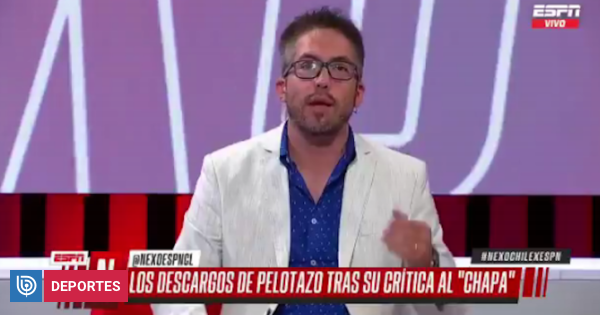 [ad_1]
He admitted a mistake and apologized. Journalist Jorge Gómez, better known as 'Pelotazo', appeared at a special moment in the latest edition of ESPN's Nexo Chile program.
The communicator asked for a minute to admit a serious mistake made in the last episode, in which José Pedro Fuenzalida questions his injury and the crack implies he does not want to go to La Roja.
"For me, Fuenzalida is beyond being dropped from the National Team for being 'injured' … This record is not with Católica, but with the teams in general. They disrespect the up and down players of the national team," he said, surprising the panelists.
This Tuesday Gómez completely changed his style and even voiced it. "I failed the truth."
"I kept translating something I had manifested since yesterday … I committed a serious crime, I couldn't tell the truth," he said.
The journalist said, "I said Fuenzalida was not injured. It seems that he does not want to go to the national team and that is a lie ".
"I was wrong and I want to publicly apologize to both the player and the Catholic leadership, the coaching staff, the medical staff, and the fans who hurt me." Said.
Finally, 'Pelotazo' said, "I had the feeling that I made a serious mistake yesterday and wanted this moment."

"Lying is such a serious thing, so Chapa I apologize to you.. And to the people of Católica, I didn't want to break them from my heart, "he finished.
Sorry for the stupidity last night. To José Pedro Fuenzalida @ChildhoodSnapcoaching staff, medical team and # Thieves Y #The Crusades. pic.twitter.com/QaeSQlpG3K

– Jorge Gómez V. (@pelotazo) 24 March 2021


[ad_2]
Source link