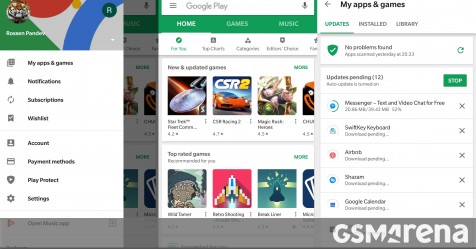 [ad_1]
Google has been preparing to redesign the user interface of the Google Play application since the beginning of this year, but it seems that only stable updates are now available to a wider audience. It adopts a simpler approach with less clutter and more Material Design-ish appearance.
The first thing we notice is that the navigation drawer is now special for applications and games, and shortcuts for media applications such as Play Movies & TV and Play Music are moved to the hamburger menu just below Settings.


Some screenshots of the new user interface
When you enter deeper into the menus, you will immediately recognize the bright UI theme in accordance with the Material Design language that Google has been pushing for years. The "My applications and games" and "Settings" menus are now white and the color is highlighted in green. Sorry, the old menu is currently missing the search option in the top right corner.
The Account menu is also rearranged and now selects tabs instead of a list. And strangely, the Wish List menu is now grouped with Notifications and Subscriptions in the sliding hamburger menu.
New iteration 12/6/13 and if you are still in the old version, try restarting the application. The update is server-side and should appear later.
Over
[ad_2]
Source link