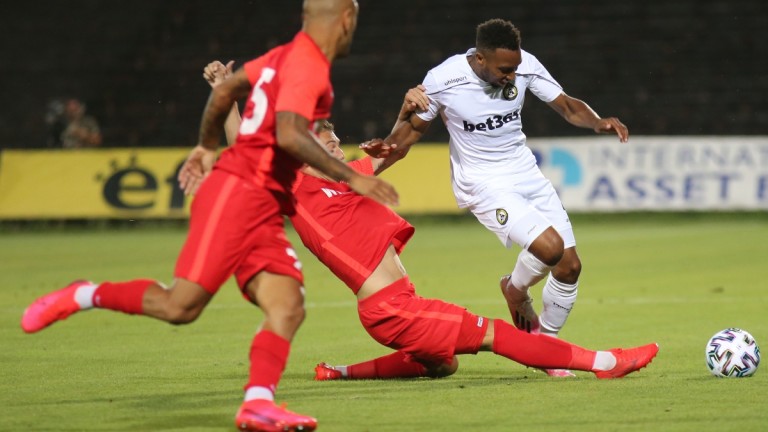 At the start of the 2nd round program of the Efbet League, Slavia and Tsarsko Selo drew 0-0.
Both teams had an unenjoyable match where the advantage rarely changes and the dynamics are lacking at times. The "Kings" could have knocked out "Ovcha Kupel" by more than a point, but Alexander Alexandrov took aim at the crossbar.
The legend of Slavia Georgi Gugalov passed away
He was part of two famous Slavic generations of the 50s and 60s of the twentieth century.
Thus, Slavia topped the championship standings. Players of coach Zlatomir Zagorcic had 4 points. Tsarsko Selo already has two points after the first two rounds and is in sixth place.
The duel began with a minute's silence in memory of the "whites" legend Georgi Gugalov, who left this world on July 25 at the age of 87.
Slavia's players pressed home in the first minutes of the match, but this did not lead to anything dangerous on Yanko Georgiev's doorstep.
Toni Tasev made the first accurate shot in the 12th minute. However, its execution was not accurate and the ball went over the crossbar.
In the 23rd minute, Alain Stevanovic fell to the ground when he contacted Peter Makrilos inside Slavia's penalty area, but the penalty was not awarded.
In the 34th minute, Mezu stole the ball and passed it to Alain Stevanovic at the edge of the penalty area. The player took his shot, but Svetoslav Vutsov intercepted safely.
Five minutes later, Vasil Shopov turned brilliantly inside the penalty area and hit the ball on target, but Vutsov saved it with his foot. Thus, the first half ended goalless.
At the beginning of the second half, the visiting team took aim at the crossbar. Alexander Alexandrov got a perfect pass from the left. The football player managed to hit a strong but sent the ball directly to Slavia's crossbar.
Toni Tasev shot from a direct free kick in the 53rd minute. The ball went over the wall, but could not find the frame of the door guarded by Yanko Georgiev.
In the 60th minute, Peter Makrilos tried to score a goal after taking a hard shot from the edge of the penalty area. However, he missed the target and sent the ball out the door. A minute later, Radoslav Kirilov fired on the ground, but Georgiev saved it.
Two minutes into the game, backup Lucas Diaz charged from the right, then entered the home's door and shot hard, but Vutsov did it once again. That was the last interesting situation at Slavia Stadium.
Live
Slavia – Tsarsko Selo 0: 0 (Match minute overview)
Follow the meeting live here