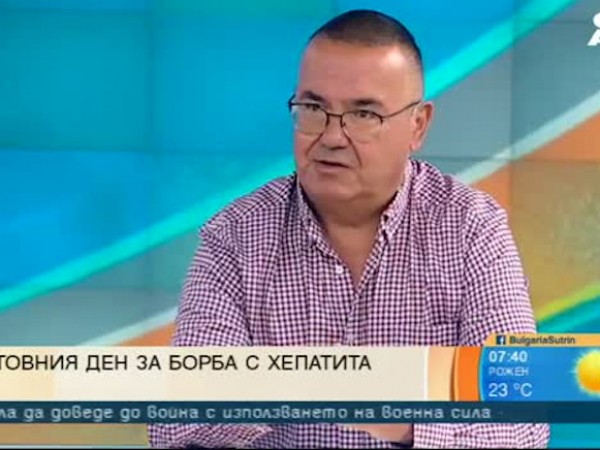 Today is World Hepatitis Day. According to the World Health Organization, about 15 million people in Europe live with chronic hepatitis B, and about 14 million people are infected with hepatitis C.
There are no records of hepatitis C patients in Bulgaria. According to the latest unofficial data, there are about 70,000 people, but 90% of them do not even know that they are carriers of the virus.
"Hepatitis B and C can lead to cirrhosis of the liver. In hepatitis B, the treatment takes many years, in the last 7-8 years in hepatitis C, the infection passes in about 8-12 weeks. the infection and it has become fully operational ", head of the Gastroenterology Department of Tokuda Hospital, Dr. . Explained in Radin Tsonev's studio. Bulgaria IN THE AIR.
The pandemic also gave birth to a new term – "postcopid hepatitis".
"In practice, this is an inflammatory activity in the liver that can lead to liver failure, but it is reversible. This is liver failure, not cirrhosis. Therefore, close monitoring is important in the postpartum period," said the gastroenterologist.
He explained that in cases of multi-organ failure due to COVID-19, the outcome is fatal.
"Sometimes, during the Covid-19 illness, we mistakenly find that the patient has hepatitis B or hepatitis C," the doctor added.
The main cause of hepatitis C and B is infection through manipulation – at the dentist, during piercing.
"Hepatitis B is also transmitted during sexual contact, it can also be transmitted during circumcision, outside the health institution," said the expert. He believes that a large number of patients will be found if screening is done once a year.
Dr. "Often the clinical picture is masked. Some people think that it is just spring fatigue, lethargy. There are people who do not have complaints, and when there are complaints – complications are mentioned," said Radin Tsonev.
Experts are waiting for the biopsy to be dropped for Hepatitis B, as in the case of Hepatitis C.
It was observed that the pandemic did not affect the spread of Hepatitis B and C, but reduced the incidence of Hepatitis A, a disease of dirty hands.
The doctor warns that the past year and a half has created other risks associated with the development of cancer.
"Many people have become sedentary, overweight. What causes fatty liver, a precondition for cancer," the doctor warned.
He explained that it is okay for people with hepatitis B, hepatitis C or cirrhosis to be vaccinated.
Radin Tsonev said, "The best vaccine is the vaccine. Even vaccinated people can get Kovid-19, but the disease is milder."
Watch the entire speech in the video.