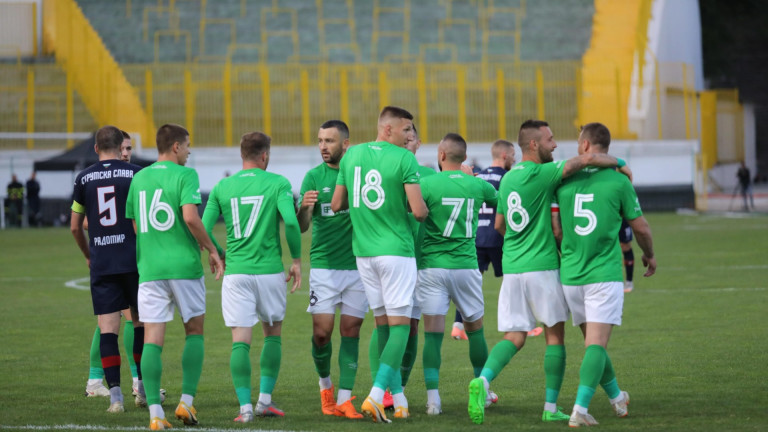 32′

Tournament: efbet league
Stadium: Football Complex Botev 1912, Plovdiv
Mass: 2511
19′

AIM! PA KONATE! Nikolay Minkov took the lead from the right and made a perfect cross in Pirin's penalty area. There Konate rose above everyone and with his head sent the ball to the door.

16′

Nikolay Minkov has received a yellow card.

10′

Equivalent minute "Komatevo". Both teams are trying to impose their game.

4′

Emanuel Toku tried his luck with a long-range shot. The ball fell into the hands of Alexander Petrov.

2nd'

Nikolay Minkov's shot attempted a shot, but was blocked by Petar Zanev.

one'

SEE WHO'S FAVORITE IN THE MATCH!

The beginning of the meeting.
Botev (Plovdiv) will host Pirin (Blagoevgrad) in the first round of the Efbet League. The match starts at 18:45 in Komatevo.
The duel is especially emotional for the "eagles", who have returned to the elite after a long hiatus. The "Canaries", on the other hand, are ambitious in showing a completely different face in the new season and they are not making the mistakes of last year's campaign. At the controls, the "yellow-blacks" drew three consecutive 1:1 draws against Zorya (Lugansk), Proleter (Novi Sad) and Levski, losing 2:3 to Tsarsko Selo in their final test.
SEE WHO'S FAVORITE IN THE MATCH!
Pirin beat Marek and Neftohimik 6:1 and Spartak (Varna) 1:0 and drew zero with Tsarsko Selo a week ago.
Pirin (Blagoevgrad) went to Plovdiv
Eagles visit Botev
Samuel Supraien arrived at Botev the day before and is even registered, but he will certainly not be on duty tonight.
Stanislav Manolev: We prepared in the best way
"Botev is a good team but it's up to us"
Pirin will lack the injured Alexander Dyulgerov, but Warren Feeney can't complain about his lack of choice.
Botev and Pirin have not met in an official match since 2017, when the "Canaries" won 2:1 in Blagoevgrad. Earlier in the same season, the Eagles won 1-0 as a guest.