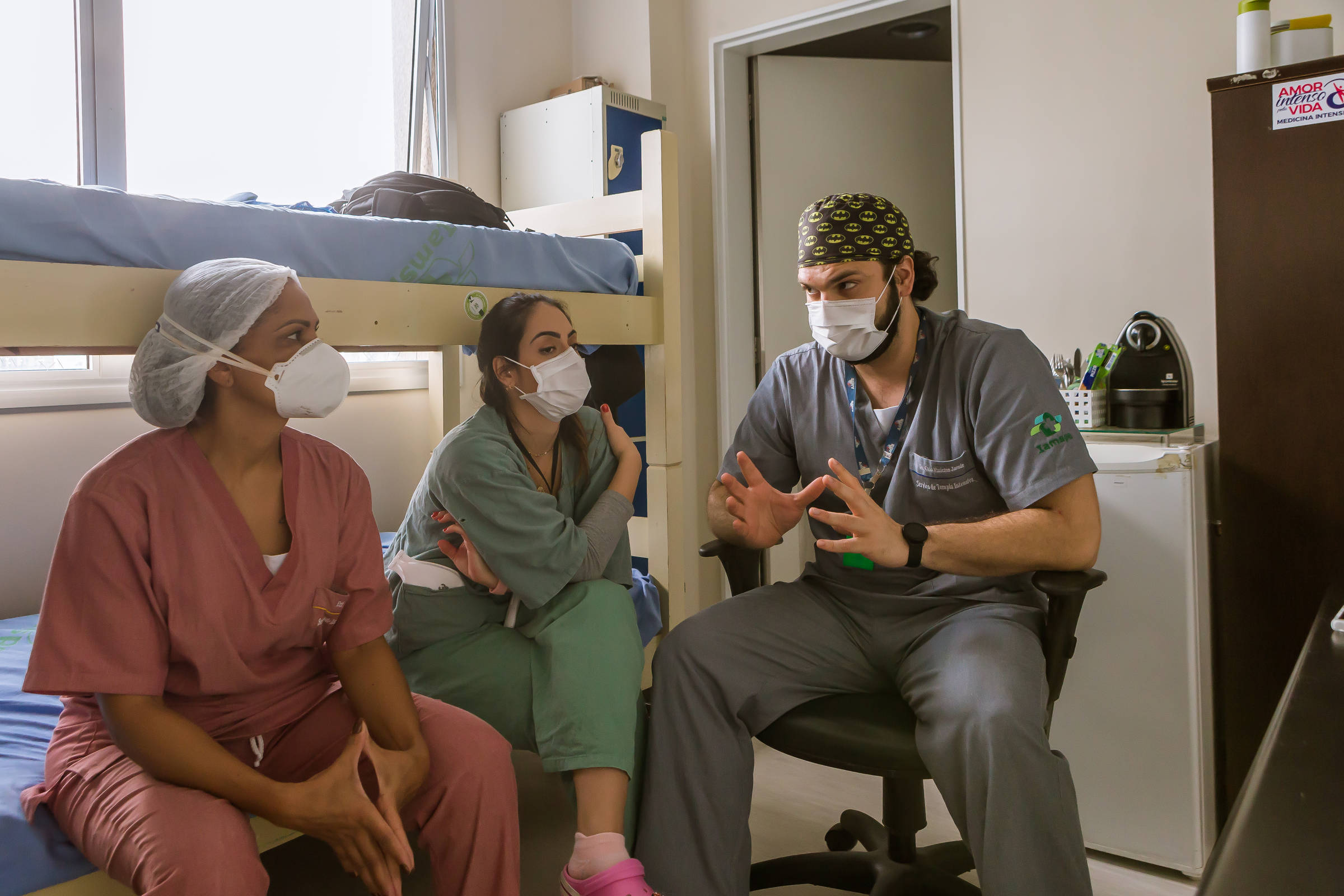 In Brazil, one in three healthcare professionals (33.7%) believes SUS should use treatments against Covid-19, even if there is no evidence of effectiveness in patients.
The data are taken from the fourth phase of a study conducted by Fundação Getúlio Vargas (FGV) in partnership with Fiocruz and Rede Covid-19 Humanidades. Virtual meetings were held with 1,829 public health professionals, including doctors, nursing professionals, community representatives, physiotherapists, in Brazil between 1 – 20 March 2021.
In the third stage, the proportion of healthcare workers advocating drug use without evidence of effectiveness was similar (32%).
The most advocates for its use in SUS (40.2%) are community workers, followed by nursing professionals with 34.3%, while 22.2% of doctors advocate this position.
The research does not represent the entire population as it does not constitute a probabilistic sample of the population, but it does bring some interesting features about perceptions of the pandemic in this category.
For the first time, the survey questioned professionals' views on vaccination because immunizers against Covid-19 were not yet available in previous stages.
Two of the three professionals said they believe vaccination against Covid-19 should be mandatory.
When the results are disaggregated by occupation, the opinion that the vaccine is an individual choice and should not be mandatory is higher among community health workers (42.8%) compared to nurses (27.3%) and physicians (18.2%).
For Gabriela Lotta, a public administration researcher and coordinator of the FGV Center for Bureaucracy Studies and research leader, it is surprising that 33% of professionals reject the mandatory requirement for vaccines by one-third of healthcare professionals. "It's even more shocking when we consider 43% of community health workers, because if there is something that is constantly being said in public health, vaccines are important tools for disease control, and they are professionals who go home to families. advise on vaccinations.
Lotta also explains that the narrative created by either President Jair Bolsonaro (non-party) or the Ministry of Health, on advocacy of early treatment in the country, could partially support some of the healthcare professionals who see it. Benefit in the "Covid kit".
Additionally, many of these professionals have received guidance on the use of these drugs in the workplace.
In contrast, 87% of respondents said they had received at least one dose of vaccine, which parallels the inclusion of healthcare professionals, particularly those working at the forefront of the fight against Covid-19, in the early stages. Vaccination in the country.
Even with the first doses of the immunizer, about 9 out of 10 healthcare professionals reported fear of Covid-19. According to the research, there is no difference in this perception by region, indicating a generalized feeling of fear and insecurity across this category across the country.
In this context, since 96.6% of the interviewees said they knew a colleague with a suspicion or diagnosis of Covid-19, it makes sense that many of the professionals fear not only of becoming infected, but also of passing it on to their families. and about a third (31.2%) say they are already infected.
According to data from the Ministry of Health's epidemiological bulletin dated March 4, 2021, more than 144,000 suspected cases of Covid-19 were reported among healthcare workers across the country, of which 39,000 were confirmed. By far, the profession most susceptible to Covid-19 is nursing, with the highest confirmed case record – about 30%, or about 12,000 cases.
Nursing professionals are those who, in addition to being the most vulnerable to contracting the disease, report more of moral abuse during the pandemic (24.4%), which is often conditioned to work or perform jobs under pressure.
The survey also identified a previously reported problem: 8 out of 10 people had their mental health negatively affected by the pandemic, and only 19% received some form of psychological support.
"We expose professionals to physical and mental health problems without any support, demanding non-stop work for twelve months, and with no possibility of recovery," he says.
At the worst moment of the pandemic, this situation worsened the feeling of fear (58.8%), fatigue (57.7%), loneliness (26.8%) and hopelessness (26.6%). With all this feeling of fatigue and anxiety, there are still a significant portion (more than 70% of professionals) who say they have not received any training on the best way to act best in Covid-19 service.
Thus the perception is a lack of government support in three areas, although there has been a significant deterioration in the federal area (from 34.2% in the third round to 75.2% in the new stage). "It was also the first time that Bolsonaro's attitude towards Covid-19 was being criticized," he says.
Finally, if there is inequality in the pandemic and this has already been documented in various ways, such as higher death toll among blacks, it also works with healthcare professionals, mostly women and blacks, in the categories of community agents. White men and women (78.8%) among healthcare workers, nursing (80%) and physicians.
"Race, gender and occupation are added here, which are naturally linked to race and gender, black women are more in lower-paying occupations, they are less socially valued, and the combination of these factors exposes these black women to worse conditions than white women are in the pandemic. suffers worse conditions than white men, "says Lotta.
Source link