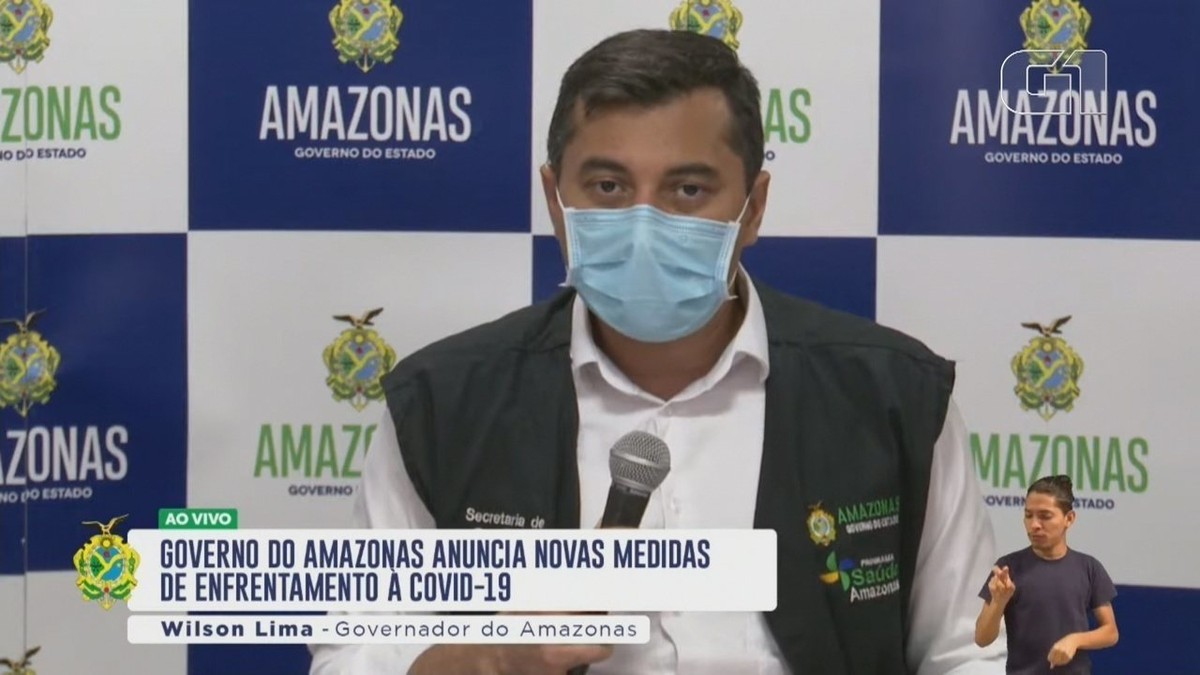 Governor Wilson Lima announced that he will issue a decree effective Monday (25) to endure restrictions on people's movement in Amazonas. According to the governor, restrictions will be 24 hours: people will only be able to go out for basic activities, go to the supermarket and get medical care. The measures will be valid for 10 days.
"This does not mean restricting the right to come and go, citizens can leave their homes, but when there is an extreme need, they can go out. They can go to the supermarket, they can go to the pharmacy. You can go to the pharmacy in an emergency, it's okay," he said. can go if fulfilled. "
According to Wilson Lima, as of Monday state has the following restrictions:
Supermarkets are open from 6 am to 7 pm and are limited to food products, drinks, cleaning and personal hygiene – one person per family.
Pharmacies are open 24 hours a day.
Health services, emergency and emergency clinics, home care and mental health.
Veterinary clinics.
Fairs, Between 04:00 – 08:00
Restaurants, patisseries and bars (with restaurant cnae) can only work in one system delivery, from 6 am to 10 pm.
Health engineering studies and services
Production and transportation of many products necessary for life such as food, medicine and supplies
Transport of workers in permitted activities
Except for companies serving the food industry, pharmacies and hospital supplies, the industry will operate in 12-hour shifts.
"This is a measure so that we can reduce agglomerations and transmission of the virus," the governor said. "No need to rush to supermarkets, grocery stores, no need to stock up on food. We have to be cautious, we need people to understand that we have to take these measures, which are difficult but necessary precautions to save the greatest amount of lives."
One The Military Police, Civil Police will ensure compliance with the decree and avoid agglomeration and abuse such as secret parties..
Crowded health units
In addition to the governor, Amazonas Health Minister Marcellus Campêlo stated that the capacity of the health units is excessive and all emergency services work above 100% occupancy rate. The situation is not better with the private wax with a fill rate of over 90%.
"Our entire healthcare network in Amazonas state is under pressure and with great concern of growing cases indoors. We have done a great job of expanding beds both in the capital and indoors, but we see the need for fivefold hospitalizations since early January," Campêlo said.
In Regarding the order of hospitalization, the secretary stated that there were 584 people, including 483 clinical bed profiles and 101 ICU beds.. Bringing about 200 patients to various states also took some of the pressure on the local system.
"Today we get an average of 75 thousand cubic meters of oxygen in public and private networks, at the peak of last year we consumed 30 thousand. We have more than twice the consumption of last year. Unfortunately we need more oxygen. It guarantees the maintenance of the network and the expansion of the beds," he said. "We need 120,000 to 135,000 cubic meters in the interior of Amazon and with case increase projections in the capital.", this is Campêlo.
"We need the presence of oxygen. We will achieve this availability only if we reduce the pressure on the network, reduce the number of infected people, call a hospital. Therefore, each must play their part," the governor said. Wilson Lima.
The governor also mourned the death of Rosemary Pinto, director of the Amazonas Health Surveillance Foundation (FVS-AM), who died on Friday (22) due to Covid-19 complications. "Dr. Rose, despite everything she faced, never hesitated, was always on the front line, encouraging everyone. Here is our grief, our solidarity with the family."
Governor Wilson Lima said he would receive a new cargo of 132,500 vaccines. According to that, A dose sufficient to vaccinate some of the healthcare professionals who are at the forefront of the fight against Covid-19 and the elderly over 75 years of age.
The governor stated that he has already sent five plants indoors and will soon ship another 20 pieces of equipment.
VIDEOS: Manaus collapsed with the increase of Covid-19 cases
COVID-19 CAUSES RISE IN AMAZON
Source link