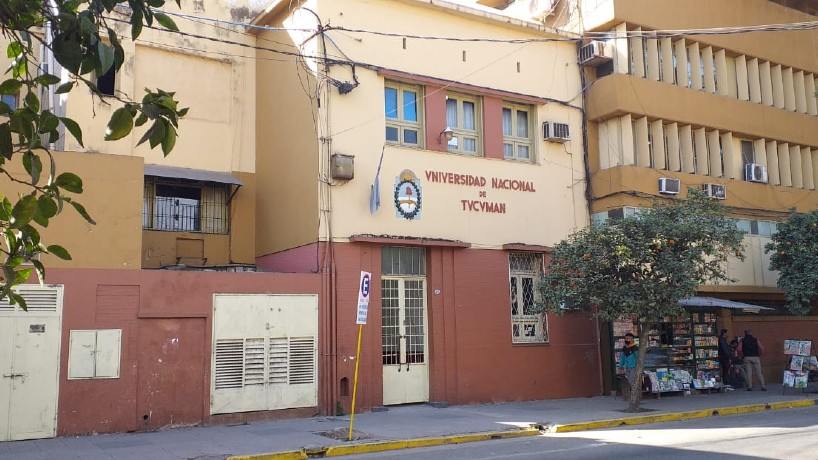 Supreme Council on 9 December 2019 Tucuman National Universityhas decided that as of 2020, the Faculty of Medicine has no admission quota and should be "unlimited" in 2021.
However, the coronavirus pandemic has forced this decision to be extended until 2022, when the race will not have a limit of one participant or take rigorous exams to enter.
Liliana TefahaThe vice dean of the faculty referred to this important change that one of the most important careers dictated by UNT will have to face, and maintaining the quality of education despite the number of students in an already known health context.
The doctor who assumed the leadership of Medicine with the dean Mateo Martinez In 2018, he announced that they comply with the decision taken by the Supreme Council about two years ago, within the scope of the newly authorized study plan consisting of two stages for those who want to become a doctor.
Dean Mateo Martínez and Liliana Tefaha.-
Students currently in their senior year of high school and wishing to enroll in a career must go through the previous phase. From Atmosphere to University Life Compulsory Taking Virtual CourseIt will start in September and will last 160 hours. It consists of three consecutive units that must be promoted to progress and complete. "The student is calculated to study for 4 hours a day. It is asynchronous, meaning they have to manage time. The only thing we marked is the queue. Once you have promoted the first unit, move on to the next. The duration is determined by the student within a margin.", explains in a conversation with Professional eltucumano.com.
"Time management is theirs, but the course ends on February 14 with the January break in between. If the student has not done this, we cannot enroll them.. When you complete it, you can register and enter the introduction module, which consists of three other units that accustom you to university life," adds Tefaha.
As there is neither a quota nor an exam, UNT faculty officials bet that the information applicants receive during this setup phase will give them an overview of what medicine means. "We want the student entering our career to be aware of what they want. We show you what it is not just to be a doctor, but also to be a college student. We believe that those who truly love the race will continue with your responsibility and with it."specifies and clearly states that this requires no external preparation: "He should start learning on his own and with the weapons we gave him in college, not with extra preparations".
"I think a responsible attitude is to understand whether you really want to study Medicine by taking the course, or whether it is what the Medical Society perceives as a utopian professional achievement. Is it a misconception that she delved into the reality of becoming a doctor and decided at the end of the course whether she wanted to pursue her career or not?a", repeats the vice-dean.
Incoming
Medical School officials know that the new entry method could represent a large influx of students into the career; they estimate this number to be between 3,000 and 4,000 new entries. "We always had a pre-registration to take the entrance exam, and that was between 3,000 and 4,000 students. PWe teach now that it's the same people who enroll, as it's a phenomenon that medical school pre-enrollers do in other careers as well. We believe they will only be able to enroll in Medical school as there is no admission this year, so we estimate we will continue to pursue these 4,000 students.Betting that this number will decrease after applicants enter the first atmosphere course, the vice dean says: "We think many boys who take a responsible attitude realize that it is not what they think. They may decide not to sign up and look for another race, this has happened to many.".
In this sense, he referred to the lack of preparation where young people have to go from high school to university and have little knowledge of the careers and occupations that stem from them:Our schools don't prepare us for college. In other countries, men don't think about going to Bariloche last year, they think that's what they will do the year they enter university. They see orientations, programs, careers and just decide what to do. There is very little of it here. I may have a misconception, but you should ask students who want to enter a career that they really know this. We owe this to our students: guiding them to make decisions. UNT has an orientation course and it's very interesting that they do it, but many leave it because it's not mandatory. But it is necessary (for the Virtual Course from Atmosphere to University Life) for these reasons", analyzes the educator.
building capacity
Another big question is whether the faculty has the necessary capacity to accommodate large numbers of students, perhaps three times more than in previous years when places and examinations controlled entry.
However, the coronavirus pandemic has helped the university adapt to virtuality and cope with dual education. "With the pandemic, In any university institution, the building capacity is insufficient and full classrooms are no longer considered.. At many colleges, heavy admissions has caused many students to sit on the floor to listen to different topics. Thinking this way, it's impossible to teach", Trusts Tafaha.
"We are looking for resources that use virtuality in things that are not essential so as not to degrade academic quality because it doesn't make sense to have 500 students in a classroom for an informative classroom. Anything that is purely descriptive or conceptual, students will make them virtual, which will require more demand and dedication." he warned.
For this reason, degree officers were tasked with separating each subject into conceptual, face-to-face and practical ones. "For new entrants, presence may not be that important, but we may have connectivity issues. We have practiced what can be done virtual and face-to-face during the pandemic process. We flipped classes and did dual training, which I think we will continue to do. I don't think we'll be back to normal in 2022"The doctor admitted
"We will have a gradual existence, but we will continue with the balloon system. Today, we are experiencing serious problems because Medicine requires the Health System to implement applications from the 3rd year. We will always adhere to the possibility that the System, which is organized according to the situation of the pandemic, will accept our students," he explained. highlighted the problems this could cause: "I can tell you that the first unrestricted year can be complicated mainly because of the connectivity, the flow of information and we will have to adapt little by little.".
"We don't want the quality of education to decline, but we will definitely have a parity with the dropout rate in the first year with other faculties in medicine that we didn't have before. We had a high average discharge on time and the average duration was 8 years and very few left. The phenomenon in all major admissions is people dropping out of school in the first year. It's a cost we'll have to bearTefaha admits.